Hoosier Ag Today: A new poll finds 21 percent of farmers plan to operate a drone this year. The poll found 21 percent of farmers will operate the drone themselves, while another 12 percent of farmers indicated they would opt for a third-party entity to fly drones.
Spread , a vegetable producer, said industrial robots would carry out all but one of the tasks needed to grow the tens of thousands of lettuces it produces each day at its vast indoor farm in Kameoka, Kyoto prefecture, starting from mid-2017. The robots will do everything from re-planting young seedlings to watering, trimming and harvesting crops. The innovation will boost production from 21,000 lettuces a day to 50,000 a day, the firm said, adding that it planned to raise that figure to half a million lettuces daily within five years. "The seeds will still be planted by humans, but every other step, from the transplanting of young seedlings to larger spaces as they grow to harvesting the lettuces, will be done automatically," said JJ Price, Spreads global marketing manager. The new farm - an extension of its existing Kameoka farm - will improve efficiency and reduce labour costs by about half. The use of LED lighting means energy costs will be slashed by almost a third, and about 98% of the water needed to grow the crops will be recycled. The farm, measuring about 4,400 sq metres, will have floor-to-ceiling shelves where the produce is grown... ( cont'd )
Records 166 to 167 of 167
Indoor & Vertical Farming - Featured Product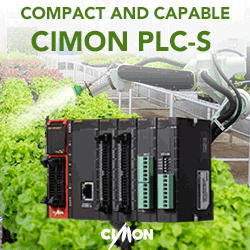 CIMON-PLC is an industrial control device based on international standards of IEC61131. It is designed for a plant site that requires industry-leading reliability. CIMON-PLC is optimized for Industry 4.0 and enhances the intelligence of industrial sites.