Acquisition Enables Trimble to Provide Food Quality Inspection and Food Traceability to Producers, Distribution Centers and Retailers
This year attendees can expect to see a lot of Ag focused drone systems and also enjoy interfacing with the people making them but that is not all. Our focus this year is on the "Drones, Data, Droids and Dirt."
Records 1996 to 1997 of 1997
Monitoring & Growing - Featured Product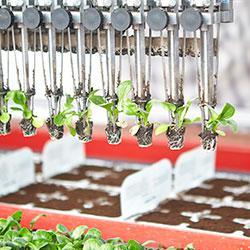 Optimal application design or maximum torque? With FAULHABER's BXT series of flat motors, developers get both. The series is designed as an ultra-compact system solution. With coordinated stainless steel planetary gearheads and integrated encoder and speed controller, it offers exceptional torque and high positioning accuracy in the tightest spaces.