Finalists Named for AgTech Conference of the South Pitch Off Competition
The AgTech Conference of the South, a premiere conference dedicated to the innovation, entrepreneurship and investment that is shaping the future of agriculture, announces the finalists for its Pitch Off competition. Fourteen startups were named, with the top four earning a spot to present to a panel of judges from leading companies such as Climate Corp., Cox Enterprises Clean Tech division and Florikan, in addition to executives from TechStars, ATDC and the University of Georgia's Innovation Gateway. The startup competition, sponsored by the Technology Association of Georgia (TAG), will take place at the AgTech Conference of the South on July 24, 2018, at the Alpharetta Conference Center.
Applications were submitted by companies from around the world. The 14 finalists include:
AgVoice (Norcross, GA) – a mobile voice-interaction service designed for food and agriculture professionals to capture insights on the go.
BeeHero (Israel) – built a global pollination network to increase crop yields using technology that makes beehives stronger, healthier and more efficient.
deepgreen (Boulder, CO) – develops artificial intelligence and computer vision technology for agricultural manufacturers.
Grubbly Farms (Atlanta, GA) – produces a farm-grown nourishing, natural daily snack for chickens that is nutrient-rich to support healthy feather growth and stronger eggshells.
Mesur.io (Chapel Hill, NC) – develops a plant-able technology called Earthstream that calibrates and measures relevant data including light, soil moisture and temperature to help farmers, among others, make decisions on labor, water and raw materials.
MyAgData (Effingham, IL) – a cloud-based data system that simplifies acreage reporting for farmers, crop insurance agents and ag service providers.
Nexus Robotics Research and Development (New Orleans) – drone manufacturer specializing in automated surveying, security and agriculture.
Nutrivert (Atlanta, GA) – develops non-antibiotic growth promoters for livestock.
Ocsnah Botanical Robotics (Easley, SC) – will produce an affordable, benchtop device that automates the entire genetic transformation process to create new lines of plants.
Pando Nutrition (Atlanta, GA) – uses cutting-edge biotechnology to engineer novel yeast-based solutions for animal feed.
Reservoir (Athens, GA) – develops wireless irrigation for landscapers and horticulturists.
Skyraider Aeronautics (Augusta, GA) – utilizes the latest technology in unmanned aerial systems (UAS) to provide companies with solutions to improve their business.
Trackter (Atlanta, GA) – a platform for trading truckload volumes of specialty crops and automating food safety monitoring and logistics process.
Yapa Harvest (Atlanta, GA) – a commercial farm that grows a variety of vegetables, herbs and fruit using indoor farming technology.
The finalists receive a complimentary ticket to attend the conference and the opportunity to showcase at the cocktail reception on July 24. In addition, the top four companies – AgVoice, BeeHero, MyAgData and Trackter – will each have six minutes to present to the Pitch Off judges on July 24, and answer one question from each judge, for a chance to win the grand prize, which includes free consulting services, the chance to network with investors and membership opportunities with Tech Alpharetta and ATDC. The winner will be named at the cocktail reception that evening.
"We were blown away by the caliber of companies that applied for the Pitch Off competition," shares Julie Bryant Fisher, chief experience officer for TAG and chair of the Pitch Off planning committee. "It was an extremely difficult decision by the judging committee to narrow down the finalists, but I think we have a great balance of technologies and geographies represented. We're excited to see the top four present on July 24."
The Pitch Off competition was open to all companies with a minimum of two employees that have developed innovative technology products or services that are designed to add value to the agriculture industry and market. The finalists were selected based on the competency of the management team and knowledge of product and markets, validation of value proposition of product or service, viability of revenue model and scalability.
The AgTech Conference of the South is brought to attendees by Tech Alpharetta, in partnership with the City of Alpharetta. Agtech business executives and leaders, investors, enterprise farmers, agtech startups, university faculty, government and other agtech enthusiasts will not want to miss this first-time conference and can register here. For information relating to sponsorship opportunities, visit www.agtechsouth.com.
About AgTech Conference of the South
The AgTech Conference of the South, Georgia's first event dedicated to the innovation, entrepreneurship and investment that is shaping the future of agriculture, will be held in Alpharetta, Georgia – the region's epicenter of technology-fueled entrepreneurship and investment. The conference is taking place July 23-25, 2018, at the new Alpharetta Conference Center. Led by Tech Alpharetta, with the support of the City of Alpharetta, the conference exemplifies Alpharetta'songoing commitment to building a strong, vibrant and resilient economy throughout the region. For more information about the AgTech Conference of the South, visit www.agtechsouth.com.
About Tech Alpharetta
Tech Alpharetta (previously the Alpharetta Technology Commission), the first organization of its kind in Georgia, was established in 2012 by the City of Alpharetta and is an independent, 501(c)(6) nonprofit organization today. The organization includes a strategic advisory board of Alpharetta's leading technology companies, a technology events pillar and the Tech Alpharetta Innovation Center, a flourishing incubator that is home to more than 45 local tech startups.
Comments (0)
This post does not have any comments. Be the first to leave a comment below.
---
Post A Comment
You must be logged in before you can post a comment. Login now.
Featured Product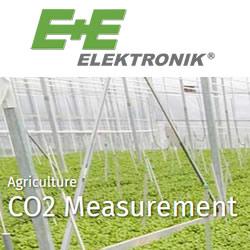 Lowering of energy costs, acceleration of growth and extension of the possible storekeeping duration can be optimised by the precise measurement of humidity, CO2-content and temperature. Optimum basic conditions for animals and plants ensure best agricultural products. As different applications demand various adopted solutions for optimization of agricultural processes, E+E Elektronik provides a broad portfolio of agricultural monitoring products