Viewpoint will be reported as part of Trimble's Buildings and Infrastructure Segment.
Trimble (NASDAQ: TRMB) announced today that it has completed its previously announced acquisition of Viewpoint. Viewpoint is a leading provider of scalable construction management software, which integrates contractors' financial and resource management with project operations, jobsite and field. Trimble funded the transaction using a combination of senior notes, term loan, existing credit facilities and cash on hand.

Viewpoint will be reported as part of Trimble's Buildings and Infrastructure Segment.
About Viewpoint
Viewpoint is a leading global provider of integrated software solutions for the construction industry. Viewpoint software enables customers to integrate operations across the office, team and field to improve project profitability, enhance productivity, manage risk and effectively collaborate across a broad ecosystem that includes owners, general contractors, subcontractors, project managers, architects, engineers and more. Viewpoint is driving innovations that are transforming the construction industry by fully integrating operations across financial and HR systems, project management tools and mobile field solutions. Viewpoint's nearly 8,000 clients include more than 40 percent of the ENR 400, and more than 30 percent of the ENR 600. With over 700 employees, Viewpoint is headquartered in Portland, Oregon with major offices in Newcastle, England and Sydney, Australia. For more information, visit: www.viewpoint.com.
About Trimble
Trimble is transforming the way the world works by delivering products and services that connect the physical and digital worlds. Core technologies in positioning, modeling, connectivity and data analytics enable customers to improve productivity, quality, safety and sustainability. From purpose built products to enterprise lifecycle solutions, Trimble software, hardware and services are transforming industries such as agriculture, construction, geospatial and transportation and logistics. For more information about Trimble (NASDAQ:TRMB), visit: www.trimble.com.
Featured Product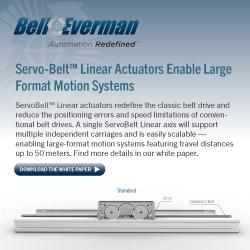 Manufacturing and packaging operations that still depend on manual material or parts handling operations can reap immediate benefits from a type of automation based on long-travel Cartesian robots with custom end-of-arm tooling (EOAT) and advanced sensing capabilities. These robots can support a variety of machines - performing otherwise manual tasks such as machine tending or transferring in-process parts - making long-travel Cartesian transfer robots a major upgrade to processes and operations. Download the White Paper from Bell-Everman