Leading cultivation software provider introduces new tool to help greenhouse vegetable, cannabis, and floriculture growers manage workers and workflow.
Agrilyst today launched a new mobile app to aid growers with workflow management. Growers can now simply assign tasks to workers who can then complete them at any work station or in the field using any device. This gives management teams unprecedented insight into how productive their teams are.

Mobile apps are changing the way teams work. For the first time, indoor growers now have access to this technology and it's making operations more efficient and more profitable. Data aggregation is incredibly costly. Growers spend hours collecting work logs, food safety logs and records, recording notes on crops, doing inventory counts, recording pest counts, and more. Now, all of that work can be done right from your phone or tablet.
More and better data collected means more insights for growers. Now growers can see who completes each individual task, receive food safety reports automatically, and manage crops real-time all of which lead to better profitability.
Allison Kopf, Agrilyst CEO said, "We're not just launching an app, we're reimagining how work is done on the farm. Workflow management is a priority for us and we're excited to provide the first of many tools designed to help growers increase workforce efficiency."
Agrilyst mobile will help growers complete their work more efficiently too. Now workers can scan batch barcodes right from a phone or tablet with no need for extra scanners. You can pull up crop records from anywhere in the greenhouse. Tasks can be completed right at the work station instead of reporting everything to a supervisor. True accountability is better for the grower and the worker.
Growers who have an active Agrilyst subscription can download the mobile app from the App Store. Growers who don't yet have an Agrilyst account can reach out to the company at: http://www.agrilyst.com/learn-more.
Agrilyst is the leading provider of software solutions for the greenhouse and vertical farming industries and is used by growers in more than 10 countries.
Featured Product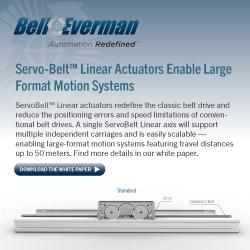 Manufacturing and packaging operations that still depend on manual material or parts handling operations can reap immediate benefits from a type of automation based on long-travel Cartesian robots with custom end-of-arm tooling (EOAT) and advanced sensing capabilities. These robots can support a variety of machines - performing otherwise manual tasks such as machine tending or transferring in-process parts - making long-travel Cartesian transfer robots a major upgrade to processes and operations. Download the White Paper from Bell-Everman