The unique system enables growers to comply with all regulations as well as improve productivity and increase yields
July 3, 2018 - International precision agriculture provider AgriTask has adapted its novel Agri-platform for use by medical cannabis growers who unlike other farmers face a unique regulatory environment. Already in wide use for other crops, the company modified the platform specifically to meet the stringent IMC-GAP regulations for growing medical cannabis.

"Our challenge was to quickly adapt our platform that has been so successful with soybeans, coffee, cotton, various vegetables and in orchards and forestry to a crop that is highly regulated," says Israel Fraier, Chairman and CEO of AgriTask. He adds that "the platforms flexibility allowed us to take advantage of experience in Brazil, Mexico, Peru and Israel and develop a platform that meets the strictest regulations and at the same time improve productivity and increase yields."
The AgriTask platform integrates various data sources into one comprehensive, easy to use system, which serves all management levels. The companys proprietary app allows the user to benefit from a full range of integrated inputs including satellite and UAV image layers and indexes, automatic climate models, digitalization of field data based on individual protocols, and integrating machinery and third-party sensor data. This permits users to easily detect problems in the growing cycle, define a plan and control the entire process from beginning to end.
"AgriTasks arrival on the scene was perfectly timed for us and has helped in a whole array of tasks from pest surveys to diseases, and from ongoing operations to costs to names just a few," says Getulio Ferreira, director of planning and production at Girassol Agricola, one of the biggest seed producing companies in Brazil. He adds that the use of AgriTasks platform "has enabled us to generate more accurate and reliable data for fast and assertive decision making." In addition, Ferreira notes the platform enabled Girassol Agricola to take the technological era in the field one step further by totally eliminating the use of paper.
The company has taken its highly successful platform used in a full range of crops one step further to meet the stringent regulatory environment facing medical cannabis growers. The upgrading gives the growers the necessary tools to monitor and document every aspect of the process from the mother plant, to post-harvest processing and shipment reports. This includes tracking and documenting of all activities from pest monitoring, to waste and death of plants, mobility of plants at a specific facility, quantities harvested and quality assessment. Data can be entered into the system by farm workers and managers through the proprietary mobile application developed by AgriTask for medical cannabis growers or automatically via integration to alternative systems.
After harvesting, each batch receives a unique ID, which includes details from the mother plant stages, clones taken, the growth cycle, post-harvest, weight, packaging and all relevant laboratory test results. The ID is prepared in accordance with Israeli Health Ministry regulations, which are currently the most stringent in the world for medical cannabis.
This kind of documentation is a crucial part of the regulatory process that growers are facing in the US and Israel as well as other countries in this relatively new segment in agriculture. As a drug, the regulations ensure that the final product meets the stringent quality level for use by patients. No less important is to prevent any seepage of medical cannabis into the non-medical market.
Equally as important for growers are productivity and yields. The AgriTask platform gives growers up to the minute reports that allow real time assessments regarding the state of their batches and risks and immediate action on critical issues ranging from fertilizer, pest and disease treatment, lighting and irrigation to name just a few.
The systems capabilities raise the overall responsibility of the staff and facilitate data reporting in real time. The quick response to risks and events effecting the growing of medical cannabis enables the prevention of unnecessary chemical applications on the plants, minimizes batch mortality and produces a cleaner, higher quality product for medical use. The bottom line for the growers is higher yields with far lower inputs and fewer losses from regulation.
About AgriTask
AgriTask, which was founded by Israel Fraier (Chairman and CEO) and Yuri Magrisso (CTO) began operations in 2010. The two collaborated in the past in a building a previous venture, Cellutag (mobile terminals for field workers). Fraier is a serial entrepreneur, who previously founded and managed four high-tech ventures in the field of airborne surveillance, medical endoscopy, knowledge management software, and hardware / software solutions for field workers.
AgriTasks proprietary BI platform and operating system for agriculture are revolutionizing the adoption of digitization and technology in the agricultural sector by both farmers and mangers. Rather than trying to educate farmers, AgriTask is able to integrate their experience with advanced technologies without changing their work habits. The company is currently serving all main segments of the agriculture industry: farmers and their associations, buyers, insurance, forestry and government projects. AgriTask enjoys a huge advantage with 90% of pilots converted into full scale projects by clients. This in turn gives the company unprecedented access to agronomic data for developing actionable AI products.
Visit AgriTask's website: https://www.agritask.com/
Featured Product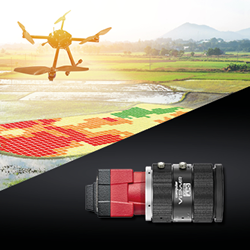 Allied Vision's compact and light weight Alvium SWIR (short wave infrared) cameras are the ideal choice to build cost-effective OEM systems used in embedded and machine vision applications. The cameras support a spectral range from 400 nm to 1700 nm at high quantum efficiencies. This allows to capture images in both the visible and SWIR spectra with a single camera and enables users to reduce overall system costs! Equipped with Sony's IMX990 and IMX991 SenSWIR InGaAs sensors, Alvium SWIR cameras deliver high image quality and frame rates. This makes them well suited for drones or handheld devices used in various industries such as, agriculture, mining, solar cell inspection or medical.