Using a model that blends aspects of technology, agriculture and science, Living Greens Farms is setting a template for the future of farming. With the addition of a new grow room in 2019, Living Greens Farm raised the total space of its aeroponic farm to 60,000 square feet.
2021 Top Article - Food Production Steps Up to Meet Global Demand
Case Study from | igus N.A.
Like the plants that grow in its facilities, the vertical farming industry is poised for steady growth. An industry that was valued at $2.23 billion in 2018 is projected to reach $12.77 billion by 2026, according to Allied Market Research.
The reasons are not complex. Simply put, there are more mouths to feed. The world population is expected to increase by nearly 2 billion people by 2050. "Given population growth and rising incomes, it is estimated that demand for food will rise by 70 to 100 percent by 2050," the U.S. Department of Agriculture said. "To meet this need, the United Nations estimates that production in developing countries will need to double."
Future demands will add to an already worrisome trend. A 2017 report from the World Health Organization found 11 percent of the global population, an estimated 815 million people, faced issues with hunger. The same report said malnutrition threatened the health of millions of people, and cited climate change and violent conflicts as reasons behind the growing crisis.
A panacea for the world's food issues can be found in an unlikely location in Minnesota. Living Greens Farm, located in Faribault, produces fresh salads, microgreens and herbs in a 7,000 square foot building. Faribault, which sits 50 miles south of Minnesota, averages 45 inches of snow per year (17 more than the national average) and the average inches of annual rainfall (34) is also below the national average. Only .35 miles of the town's 15.67 square miles is water. When people think of farming, they do not think of Faribault.
Using a model that blends aspects of technology, agriculture and science, Living Greens Farms is setting a template for the future of farming. With the addition of a new grow room in 2019, Living Greens Farm raised the total space of its aeroponic farm to 60,000 square feet. By growing vertically, Living Greens Farm uses 98 percent less land and 95 percent less water than traditional growing methods. The company's vertical plane design is the first of its kind and is more efficient than other aeroponic growing methods, and decreases labor by up to 60 percent.
"We whole-heartedly believe indoor/vertical farming is the path forward for agriculture," said Nate Klingler, Vice President of Business Development for Living Greens Farm. "Demand for food is growing, and demand for safe, delicious, and healthy food is growing at an even faster rate."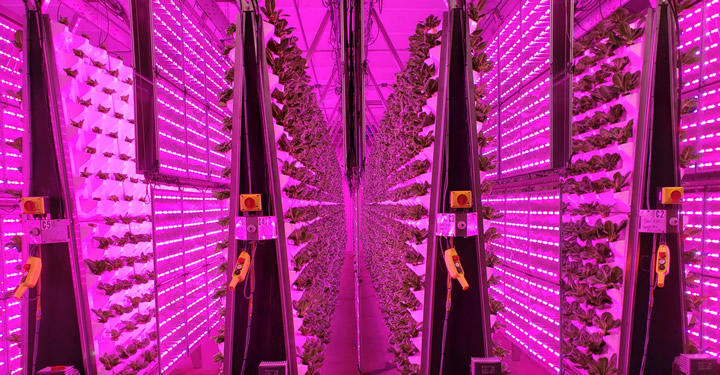 The "Air Grown" vertical system at Living Greens Farm reduces the need for land, energy, water, and space. The company grows leafy greens such as Romaine, Butter Lettuce, mixed greens, and basil. (Photo courtesy of Living Greens Farm)
Up in the Air
Living Greens Farm uses an aeroponic system in which plant roots remain in the air nearly 99.9 percent of the time. The plants thrive under the perfect balance of light, air, humidity and nutrition.
Founder Dana Anderson took inspiration from a NASA study that sought methods for growing plants in space. Beginning in the garage of his Minnesota home, Anderson started developing the technology that would lead to Living Greens Farm. The company officially launched in 2012 in the Faribault Industrial Park. "We didn't invent aeroponics," Anderson said. "But we invented how to commercialize it. We feel aeroponics is the fastest and most disease-resistant way to grow."
Instead of the whims of weather, the growing environment is controlled by software. Temperature, humidity, wind speeds, light levels, and water amounts are controlled. Anderson and his investors put up about $5 million into the research and development side of the business.
"Living Greens Farm was a science and engineering operation for many years while we worked to make our proprietary aeroponic grow systems commercially viable," Klingler said. "There were many challenges along the way. Many different versions of the systems were developed, tried, scrapped, or refined. That went on for years."
Water for the farm comes from Faribault. It is distilled and treated to provide the nutrients plants need. "We use inorganic salts to enrich our water. Using inorganic salts allows our growers the ability to choose the individual components the plants need to survive and thrive," Klingler said. "Inorganic salts also enable the plants to be able to obtain the nutrients they need in the specific ionic form they prefer. Organic nutrients tend to be in a more basic form and the plant then has to expend energy to convert the organic nutrients into the form they need."
Unique Irrigation System
In aeroponics systems, seeds are planted in pieces of foam stuffed into pots, which are then exposed to light on one end and mist on the other. The stems remain rooted in the foam as the plants grow.
Plants move along a patented traveling carriage system that provides plants with a consistent supply of nutrient-rich water. The irrigation system was created over more than a decade of research and development.
The traverse system features a 16-foot energy chain manufactured by igus, the Germany-based based manufacturer of motion plastics. The company runs its North American operations out of Providence, R.I.
A water line is set into the energy chain to feed the plants. The system runs 24 hours a day and 7 days a week throughout the year, delivering about 5,417 gallons per hour and 130,000 gallons per day. The H4-32 energy chain is frequently used in applications that require high speeds and/or accelerations, when quiet operation is required, and for long travels. The energy chain from igus, which helps engineers design highly technical and cost-friendly motion plastics solutions, is frequently used in applications where high fill weights are needed, such as the case with Living Greens.
"It's important that our plants have a consistent supply of water, and this carriage system is the delivery method for supplying that water," Klingler said.
Living Greens has 74 traverse systems in place at its Minnesota location, and 12 more at a sister farm. Klingler said the company is also working to license its technology to people interested in starting their own farms in Europe, Asia, and Africa.
Hold That Line
Establishing the water line was one of the primary challenges for the Living Greens Farm team. The carriage travels a relatively long distance, and the water line is quite heavy. It is also protected in the energy chain system.
"Water is very important to our operation so protecting that source during delivery was essential," Klingler said.
Like many industries, automation is playing an important role in the growth of vertical farming. Few products, however, have the capability to withstand the effects of dirt, water, and chemicals on equipment.
"The majority of vertical farming systems have some kind of automation built into them so they can operate 24/7," said Charles Jaskolka of igus. "Plants need constant attention and these facilities provide consistent environmental conditions that optimize growing conditions. Whether it is an automated water or lighting system, they need products that keep cables and hoses tidy to prevent early failure."
Bright Future
Like many other vertical farming companies, the future looks bright for Living Greens Farm. Besides growing demand, other factors are playing into the industry's growth. More people are concentrated in urban locales, which makes it harder to ship food.
In addition, land is becoming more scarce and some nations are seeing an aging population with few workers interested in taking on the challenges of traditional farming. In Japan, for instance, the average of a farmer is 67. The nation has more than 150 vertical farms, which has helped feed a nation that is one of the most densely populated and urbanized in the world.
Even in the Midwest, the nation's breadbasket, residents have had periods where they have had to wait for food. Before Living Greens, residents in some sections of the Midwest have had to rely on fresh greens being shipped thousands of miles that could require up to 2 weeks of travel time.
With its technology in place and interest surging, Living Greens Farm is paving the way for a new technologically-driven farming generation.
"With dwindling amounts of land that can be used for farming, as well as the decreasing amount of clean water available for farming it just makes sense," Klingler said. "Living Greens Farm plans to play a big part in this path forward and is excited to see what the future holds."
The content & opinions in this article are the author's and do not necessarily represent the views of AgriTechTomorrow
---
Comments (0)
This post does not have any comments. Be the first to leave a comment below.
---
Post A Comment
You must be logged in before you can post a comment. Login now.
Featured Product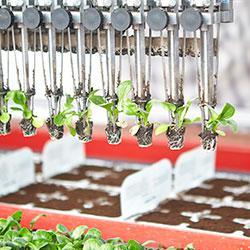 "Smart farming" is an important part of the answer to this existential question: Extremely high efficiency in food production through the targeted use of the latest technology, computer-supported and - where possible - fully automatic. Seeds are individually and precisely placed; fruits carefully picked by mechanical grippers; fertilizers and plant protection products applied in small doses and in a targeted manner. These operations require a large number of small electric motors that are both robust and powerful.