The announcement was made at Agri Trade Equipment Expo.
From Greenbot: The Greenbot was introduced at the Agritechnica 2015 trade fair. The Greenbot is the first driverless machine to be developed especially for professionals working in the green sector who have to carry out repetitive tasks on a regular basis, such as working in fruit cultivation, horticulture, agriculture, or the municipal sector.  The software that controls the fourwheel steering and hydraulic four-wheel drive system is userfriendly, safe and reliable. The Greenbot can be programmed to function fully independent and can be used to replicate tasks recorded in advance using a tractor with a driver. Programs can also be activated using the remote control, and then the Greenbot repeats the instructions. This mode is called 'Teach & Playback'. The Greenbot is furthermore able to independently plan its own route and operations for specific applications, such as spraying orchards or mowing public green areas... ( site )
Records 1 to 2 of 2
Featured Product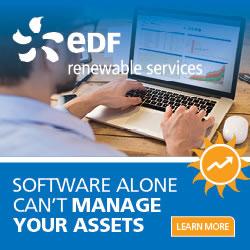 EDF Renewable Services offers the same innovative solutions that maximize the performance of our own 5.2 GW of installed projects. Because we're not an equipment manufacturer, our recommendations are transparent and data-driven. We cover the entire project lifecycle: from pre-commissioning support, through warranty and post warranty operation, to late stage and decommissioning.