Recent Innovations in Farm Equipment Allow for Increased Versatility: 11 Examples

Agricultural technology and equipment have drastically changed over time. Essential hand tools that farmers first used, like shovels, rakes and hoes, have been automated and can attach to larger machinery to enhance operations and make them more efficient. Other technologies have allowed farmers to connect their farms to the internet for precision agriculture and sustainability efforts.
Those involved in the agricultural industry know that there are always new innovations in hopes of making the life of the farmer easier and more efficient, especially to feed a growing population. Agriculture is one of the best examples of industries that have gone through a technological revolution in recent years.
Farmers know that choosing the appropriate equipment for their farms is the key to success. The industry can no longer function well without machinery. Different farms require different equipment depending on their needs — some may specialize in animal agriculture and others in crops. Furthermore, innovations in the past few decades have made available multipurpose equipment that can accommodate all types of agriculture.
Recent innovations in farm equipment allow for increased versatility on the farm. Here are 11 examples of the innovations that have helped change the course of farming and enable farmers to get their work done with fewer implementations and greater efficiency.
1. Compact Tractor
Compact utility tractors are one of the most used pieces of farm equipment. These tractors are smaller than traditional tractors, but they still have the same amount of horsepower. This means they can get most jobs done and even lift heavier objects. It's a practical tool to have on any farm. Compact tractors come with a hitch in the front and back to haul trailers and other items. They can also clear land, bale hay, dig foundations, plow snow, and mow acres of lawn.
2. Pickup Truck
Although pickup trucks aren't a recent innovation, there are always new models available that can tow heavier items and have available attachments to complete other tasks on the farm. A reliable pickup truck is one of the most indispensable machines for the farm. It can haul firewood, feed, and building supplies. It can plow snow off of paths. When paired with a trailer, it can move livestock. Many pickup trucks now come with GPS and touchscreen controls, too.
3. Skid Steer Augers
Another versatile piece of equipment is the skid steer auger. It offers a wide range of attachments and can help complete any construction, landscaping, or farming task. Some of the most common uses of skid steer augers on the farm include fence post installation, stump grinding, tree planting, and cement mixing for new buildings. Farmers typically use them for putting in sturdy fence posts, as most come with 72-inch drill bits and extensions.
4. Drones
Drones have made a significant impact on farms recently. More agricultural industries are adopting drone technology on their farms. They have multiple uses on farms that go beyond viewing fields. Drones can map and survey crops, spray fields, and even follow the layout of the land to enable farmers to make the greatest use of topographical aspects. Many of the drones available now come with flight software, allowing users to map a covered area.
5. Vertical Farms
Vertical farms and the equipment used in them are some of the more recent innovations that allow for increased versatility. The farm itself is highly versatile. Vertical farmers are equipped with technology that can sense the conditions needed for plants to grow. This, in turn, helps reverse the effects of climate change because everything condenses inside of a building. It provides food for urban areas and is a more sustainable approach to farming.
6. Smart Seed Firmer
Versatility is vital for farmers. Without versatile machinery and tools, farmers would need a lot more storage space. Fortunately, innovations have made it possible to integrate multiple devices in one, like a smart seed firmer. Traditional seed firmers plant seeds. A smart seed firmer plants seeds, uses an optical sensor to map organic matter, detects soil moisture levels, and can change seed depth. It's a newer and more versatile technology than traditional models.
7. Telematics
Telematics applies to various industries. Multiple industries utilize telematics to send and receive information through a computer over long distances. This technological innovation enables farmers to monitor their office equipment and machines. It also allows them to automate field operations and move machinery from one location. This is highly versatile and has blossomed in the past few years in the agricultural industry.
8. Post Hole Digger
Although an auger and compact tractor can use post hole digger attachments, it's more feasible to carry a post hole digger to a more remote location or for smaller jobs. Post hole diggers are one of the most widely used tools on farms. They enable farmers to dig holes for fence posts, tree planting, solar panel posts, and signposts. With a post hole digger, a farmer can keep livestock enclosed, keep pests out, and even build a pole barn or deck.
9. Box Blade
Box blades also aren't a super recent innovation in farm equipment, but they're still beneficial for the farm. These blades were patented in 2011, and their versatility beats any other blade attachment. Those who work in the field in the agricultural industry know they can rely on a box blade for grading and leveling ground to plant crops, terracing fields, leveling land for a building, spreading dirt, and constructing paths around the property.
10. Pallet Fork
An excellent investment for farmers is a pallet fork. The versatility of pallet forks on a farm makes operating a farm more smooth and efficient. Agricultural businesses use pallet forks for various jobs, including clearing brush, moving hay bales, hauling logs, installing fence posts, lifting roofing material, lifting deer or other animals for butchering, installing a windmill, and cleaning mower decks. The design of pallet forks hasn't changed much, but they've increased in versatility.
11. Spreader
Finally, a spreader can spread more than just fertilizer on a farm. Farmers often use spreaders to evenly distribute large amounts of manure or fertilizer around the crops and other fields to ensure they get enough nutrients to grow. Spreaders can spread other materials, though. During the winter, farmers may use them to spread salt on icy paths. Additionally, they can distribute seeds during planting season. It's a versatile piece of equipment that is found on many farms.
Versatility Is Key
Versatile equipment makes farming productive and streamlines daily operations. Integrating multiple tools into one or finding new uses for pieces of equipment allows farmers to be more cost-effective and save space on their farms. Farmers need to be versatile on their farms to make the most out of their land, equipment, and money to feed populations.
Comments (0)
This post does not have any comments. Be the first to leave a comment below.
---
Post A Comment
You must be logged in before you can post a comment. Login now.
Featured Product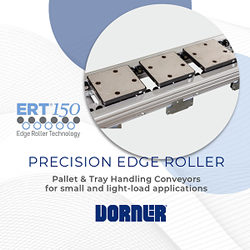 The next evolution in Dorner's Edge Roller Technology conveyor platform, the ERT®150, is ideal for small and light-load assembly automation, as well as medical and medical-device assembly application. The ERT platform is the only pallet conveyor of its kind available with an ISO Standard Class 4 rating for cleanroom applications. Earning the ISO Standard 14644-1 Class 4 rating means Dorner's ERT150 will conform and not contribute to the contamination of cleanrooms to those standards. As implied by its name, the ERT150 (Edge Roller Technology) uses rollers to move pallets through the conveyor smoothly with no friction (a byproduct often seen in belt-driven platforms). The conveyor's open design eliminates concerns of small parts or screws dropping into rollers and causing conveyor damage or jamming. The ERT150 is suited to operate in cleanroom environments requiring a pallet handling conveyor. It is capable of zoning for no or low-back pressure accumulation and is ideal for automation assembly applications within industries including medical devices, electronics, consumer goods among others.