The Promise of Indoor, Hurricane-Proof 'Vertical' Farms
Meagan Flynn for The Atlantic: Federico Marques feared the worst for his farm as he watched live coverage of Hurricane Harvey ravaging fields across the Gulf Coast and inundating every pocket of Houston.
Marques was trapped at home during Harvey and could only monitor his crops from his couch, anxiously viewing footage from the farm's single working indoor camera. "We couldn't get in here for four days," Marques said as he showed me around on an unseasonably warm afternoon this November. "I'm looking at all these aerial photos and thinking, 'Oh my God, everything is underwater.' When we finally got back, we had 10 inches of water on the floor—but we only lost maybe 5 percent of the product. The rest was perfectly fine."
In a way, Harvey was a test for Moonflower Farms. Founded by Marques in December 2015, it was one of the state's very first indoor "vertical" farms—where plants are stacked in trays on shelves, instead of laid out horizontally across larger plots of land. In these high-tech structures, plants don't rely on sunlight or soil, rainwater or pesticides, but LED lights and minerals instead. The goal of vertical farms isn't just to save space; it's also to find a more economical way of producing food for the growing population—and to reduce the costs and consequences of getting that food to where people actually live. Full Article:
Comments (0)
This post does not have any comments. Be the first to leave a comment below.
---
Post A Comment
You must be logged in before you can post a comment. Login now.
Featured Product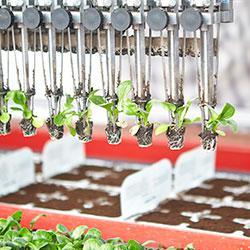 "Smart farming" is an important part of the answer to this existential question: Extremely high efficiency in food production through the targeted use of the latest technology, computer-supported and - where possible - fully automatic. Seeds are individually and precisely placed; fruits carefully picked by mechanical grippers; fertilizers and plant protection products applied in small doses and in a targeted manner. These operations require a large number of small electric motors that are both robust and powerful.