With Vertical Farms, Food Banks are Growing their Own Produce to Fight Hunger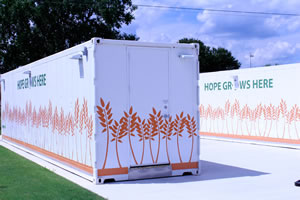 Jody Helmer for Civil Eats: When temperatures dip below zero, it's too cold for farmers to grow fresh produce in Tulsa.
Until spring, almost all of the fresh fruits and vegetables distributed through the Community Food Bank of Eastern Oklahoma are imported from warmer climes like Mexico and California. Those donations are few and far between, often leaving the food bank distributing non-perishable items such as canned tomatoes, peanut butter, and pasta instead of fresh foods. To address this gap, the food bank started to grow its own greens, ensuring a stable supply of fresh, locally-grown produce for its clients.
"Our priority is getting healthy foods to the people that need them, but getting donated produce has been a big challenge for us—and having fresh produce is even tougher in the winter months," said John McCarthy, the food bank's director of community incentives.
In 2016, the food bank installed a vertical farm—an indoor, temperature-controlled environment where food is grown in stacked towers under LED lights. The two 40-foot by 8-foot shipping containers that make up the operation were upfitted into indoor hydroponic farms by Growtainers, one of several manufacturers of vertical farm systems. The containers are designed to produce up to 1,800 heads of lettuce and other leafy greens every 45 days—regardless of the time of year. Full Article:
Comments (0)
This post does not have any comments. Be the first to leave a comment below.
---
Post A Comment
You must be logged in before you can post a comment. Login now.
Featured Product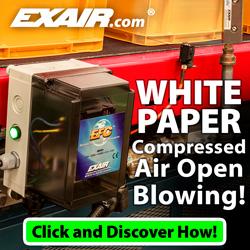 Compressed air is a limited resource that is generated in-house for the benefit of many operations within the manufacturing environment. Learn how to ensure all point of use applications are using your compressed air in the most effective and efficient way possible. Learn how much it costs to produce that compressed air and how Engineered Nozzles can help you use your air more effectively and efficiently.