Princeton's Vertical Farming Project harvests knowledge for a budding industry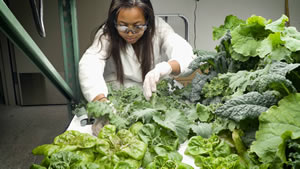 Morgan Kelly, Princeton Environmental Institute: Princeton University's Vertical Farming Project began at a conference in 2016 when the topic turned to increasing the crop yield of hydroponic systems — wherein plants are grown indoors without soil by using only water and nutrient solutions — by pressurizing water with extra oxygen in a tank before feeding it to the plants. The idea was on everyone's lips.
Paul Gauthier knew it was wrong. A plant physiologist, he realized that once the water leaves the tank, it will depressurize and release more oxygen, which reduces photosynthesis.
"They wanted to provide more oxygen to the roots to increase the yield, but they were doing the opposite of that," said Gauthier, an associate research scholar in geosciences and the Princeton Environmental Institute. "That's when I decided to get into the game."
In April, Gauthier launched the Vertical Farming Project with support from a High Meadows Foundation Sustainability Fund grant obtained through the Office of Sustainability. The project includes a number of student researchers and is part of the Campus as Lab Initiative. Vertical farming involves growing food crops indoors on stacked shelves. Hydroponics is the most popular form of vertical farming, but the concept is always the same. Sheltered from pests, frost and the scorching sun, plants can grow rapidly, with harvests taking place several times a year. The Princeton farm can produce mature basil in one month, month after month.
Located in a small windowless room in Moffett Laboratory, Princeton's vertical farm is used to identify the optimal conditions for growing food indoors. The farm contains about 80 plants. (No tomatoes, for space considerations: "If you give them the right conditions, they'll grow and grow and grow and never stop," Gauthier said.) The most successful plants are herbs and leafy greens, which allow for the occasional feast. The project has partnered with an eating club, the Terrace F. Club, which has incorporated the project's bounty into meals. An Oct. 24 event at Forbes College featured dishes made with lettuce and herbs from the vertical farm and the Princeton Garden Project served alongside produce from a commercial food distributor. Full Article:
Comments (0)
This post does not have any comments. Be the first to leave a comment below.
---
Post A Comment
You must be logged in before you can post a comment. Login now.
Featured Product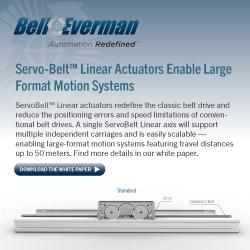 Manufacturing and packaging operations that still depend on manual material or parts handling operations can reap immediate benefits from a type of automation based on long-travel Cartesian robots with custom end-of-arm tooling (EOAT) and advanced sensing capabilities. These robots can support a variety of machines - performing otherwise manual tasks such as machine tending or transferring in-process parts - making long-travel Cartesian transfer robots a major upgrade to processes and operations. Download the White Paper from Bell-Everman