Clovy is an innovative vertical garden that offers a modular and scalable solution, enhanced by an advanced IoT (Internet of Things) automation system to regulate the irrigation process and upgrade the functionalities of the product overtime.
Milan, Italy - (Oct. 2nd, 2023) From seasoned green thumb to planting the first seed, growing has never been easier with Clovy. Hexagro is launching Clovy, the ultimate vertical garden innovation with a digital cultivation assistant that teaches users how to grow whatever they want.

The sleek and modular design offers flexibility and versatility tailored to growing preferences and available space. With a small or large kit available, enjoy planting indoors or outdoors. The advanced IoT (Internet of Things) automation system takes the hassle out of watering, ensuring plants receive the right amount of nourishment at the perfect time.
The Clovy system includes:
● Two size options:
○ Small Kit: 4 pots + container vase
○ Large Kit: 8 pots + container vase
● IoT Automation system
● Two soilless cultivation methods
● Water level sensor
● Plug-and-play irrigation system and accessories
● Access to the Hexagro mobile app (with chatbot Hexbee)
Clovy can grow up to 40 plants via hydroponic fertigation methods as well as low-pressure aeroponics. The plug-and-play sensors provide real-time data on crucial factors like water level, temperature and light conditions. These sensors work in conjunction with the IoT system to optimize plant growth. Unlike other gardening systems currently available, Clovy's upgraded design allows gardeners to use their own seeds to grow whatever they prefer.
The Hexagro app serves as an educational and interactive way for users to grow. With the help of an AI digital growing assistant, Hexbee, users can chat, learn and gain valuable guidance and insights on how to grow plants successfully. Hexbee offers tips, reminders and personalized recommendations based on the gardening needs, allowing access to the Hexagro online community.
"Clovy is revolutionary in its kind, made out of 100% recycled or recyclable materials, plug-and-play components which allow anyone to start small and scale-up over time," said Alessandro Grampa, co-founder of Hexagro. "Clovy is perfect for anyone just starting out or those willing to take the next step towards self-sufficiency and professional growing."
After launching Poty during the pandemic, Hexagro has delivered more than 4,000 vertical gardens around Europe. Clovy is the result of customer feedback and learning how important it is to deliver simple yet efficient products to grow healthy plants and reconnect with nature in the tiniest of spaces. Clovy is an affordable, sleek and functional vertical garden that offers various growing options that can easily be adapted to different areas and surfaces in their space.
Hexagro is leveraging core technology by deploying it within educational institutions, empowering the next generation, and in emerging economies to aid micro farmers in their battle against climate change. Clovy customers are not only improving their wellbeing by embracing urban farming but also supporting vulnerable communities to adopt sustainable agriculture practices.To pre-order Clovy, visit pr.go2.fund/clovy.
About Hexagro
Hexagro strives to allow anyone, anywhere to grow and access to healthy food by increasing the accessibility to urban-vertical farming technologies. With a team of engineers, designers, project managers, marketers and creators who come from more than six countries and backgrounds, Hexagro is an innovative and impactful company leveraging exponential technologies to decentralize food production and reconnect people to nature. For more information, visit https://www.hexagro.io/.
Featured Product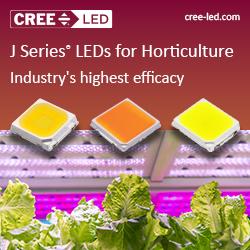 Horticulture and other forms of agricultural lighting require application-tuned ratios of spectral content, high efficacy and long lifetimes. Since these systems are designed to maximize yields for plants and animals, they require different metrics than lighting products designed around the human visual system. Cree LED delivers a wide range of spectral options and products optimized for these applications with leading efficiency and reliability.