Autonomous Vineyard and High-Density Orchard Sprayer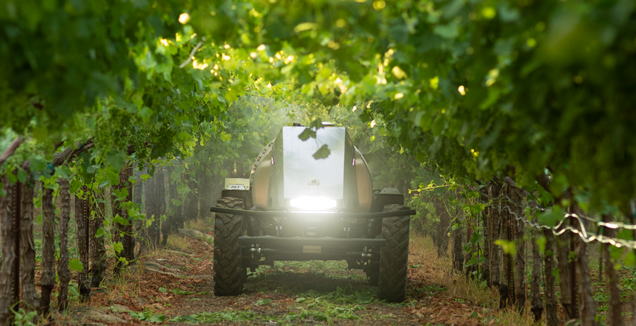 Mini GUSS may be smaller than its predecessor GUSS, but it is MIGHTY! GUSS Automation is giving a sneak peek at this compact version of GUSS. The agriculture industry has been asking for this innovative sprayer designed specifically for vineyards and high-density orchards and it is finally here.
The revolutionary GUSS made its debut to the world in 2017 and immediately received awards and rave reviews for its precision and efficiency giving farmers, growers and orchard spraying businesses the ability to lower labor and overhead costs as well as increase precision, efficiency, safety, and profitability with this autonomous machine. Customers throughout the world asked for this technologically advanced machine in a smaller version to make autonomous spraying in vineyards and high-density orchards possible.
GUSS Automation jumped into action to design, develop and debut mini GUSS. This progressive machine uses a combination of GPS, LiDAR and the latest technology to autonomously roll down each row spraying with precision and efficiency. A single operator can monitor up to eight mini GUSS machines from a vehicle, office or home while the nurse truck supplies the spray product when mini GUSS signals for a refill.
"Since debuting GUSS in 2017, the number one request we consistently received was to build a smaller version to fit in vineyards and other high density permanent crops," said Gary Thompson, COO of GUSS Automation. "Mini GUSS was designed to fit these tight spacings, while still providing the high performance our customers have come to expect from a GUSS sprayer."
Mini GUSS is 6-feet wide, 5-foot 4-inches tall and 20-feet long, has a 400-gallon tank and a 3.8-liter Cummins diesel engine to tackle the most strenuous terrain. GUSS Automation offers two tower options for mini GUSS: a vineyard tower for two row applications and an apple tower for high-density trellised orchards.
GUSS (Global Unmanned Spray System) was developed out of necessity. Orchard spraying business owner, Dave Crinklaw dealt with the shortage of agricultural labor in his own business and he found himself looking for answers and the solution came in the form of a driverless orchard sprayer. After developing and introducing a fleet of GUSS sprayers into his own custom application business, Crinklaw decided to make GUSS sprayers available for any grower to own. GUSS Automation just recently announced the delivery of their 100th GUSS sprayer.
Mini GUSS is the next evolution of this technology, allowing many more crops to be sprayed autonomously. Its compact design makes it the right fit for vineyards, high-density orchards, berries, hops and other high value crops with a tight row spacing. Mini GUSS will be making its debut in the spring of 2022.
Comments (0)
This post does not have any comments. Be the first to leave a comment below.
---
Post A Comment
You must be logged in before you can post a comment. Login now.
Featured Product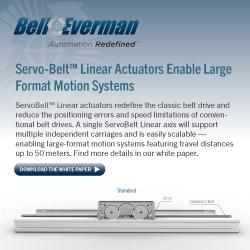 Manufacturing and packaging operations that still depend on manual material or parts handling operations can reap immediate benefits from a type of automation based on long-travel Cartesian robots with custom end-of-arm tooling (EOAT) and advanced sensing capabilities. These robots can support a variety of machines - performing otherwise manual tasks such as machine tending or transferring in-process parts - making long-travel Cartesian transfer robots a major upgrade to processes and operations. Download the White Paper from Bell-Everman