DESIGNED FOR THE FUTURE: STIMULATING DEBATE IN CONTROLLED ENVIRONMENT AGRICULTURE
Can we really feed 40,000 people with a 'SkyFarm'? Or will everyone in London have a 'Personal Food Computer' by 2040? These are the sorts of provocative questions being posed ahead of the upcoming Controlled Environment Agriculture (CEA) conference being held on 18th March at the John Innes Centre.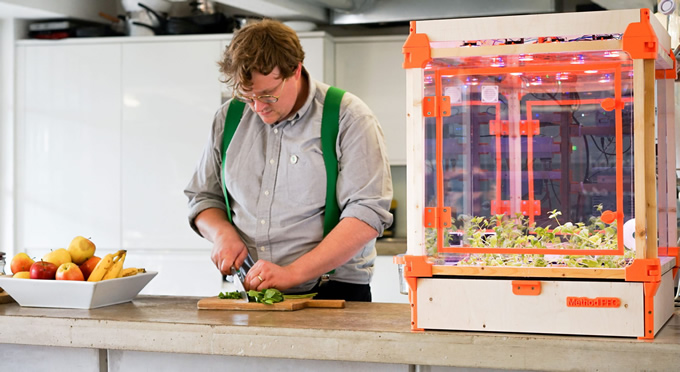 The event is hosted by Agri-TechE, a business-focused membership organisation that is supporting the growth of a vibrant agri-tech cluster of innovative farmers, food producers and processors, scientists, technologists and entrepreneurs.
Matt Millington, of Method Strategic Design Studio, is a speaker at the event. He comments: "Humans only evolve when they are pushed to. There are technological advances that can contribute to making urban farming a wider reality, but more importantly there are drivers: climate change, soil degradation, urbanisation…"
He's right about there being drivers of change: models indicate that 70% of the human population will live in cities by 2050*.
CEA, the concept of growing crops in a secure indoor space, is seen by many as the ultimate solution to food security in an urban context and the upcoming conference will provide an opportunity for stakeholders in the field to discuss how to reach the future that they want to see.
Speakers include visionaries: Matt, from Method; and Thomas Cox, a Bristolian Architect with ambitious plans for a modular high-rise farming block. Both will arrive at the upcoming Agri-TechE conference with plenty of thoughts to fuel a debate on the future of CEA.
Food Computers and Cooperatives – Matt Millington, Method
Method is a strategic design studio, making products, services, experiences and businesses for the digital age. They use design as a tool to help organisations make better strategic decisions about the future of business.
Matt says: "At Method, we often make things that are designed to trigger controversy and promote a conversation about what a future might look like, and in this case we hit upon the Personal Food Computer as just that – an object to frame a conversation around.
"What does it mean for the food system, if something like the food computer became common-place?" According to Matt, it's all part of the mission to simulate debate: "Rather than asking people what they want, we show them that potential future."
"The food computer is an experimental growth chamber designed to be built by anybody, and at a low cost, with detailed instructions also available for free online," Matt adds. 'Growth recipes', shared via the cloud, enable the grower to control specific attributes of the crop through close monitoring of 'environmental inputs' such as lighting.
Matt expects that as CEA is picked up in urban centres, growers could begin to form into cooperatives, which will provide a big boost to the overall productivity: "Much as we're starting to see local urban energy production in parts of London, producing their own electricity and selling it back, I think you'll see in future cooperatives within London who are producing their own food on a relatively large scale.
"So, I think you'll see CEA in cities develop more on a cellular basis – areas of cities providing the urban farming model, which then influences perhaps what a supermarket sells in that region. I think supermarkets will play a big role influencing the sorts of crops that get grown and sold within local communities."
At the Agri-TechE conference, Matt is ready to fuel debate: "We need to provoke a conversation around what the future should look like… in order to make decisions to design toward that future or, more importantly, away from that future that we don't want."
SkyFarms – Thomas Cox, Wotton Donoghue Architects
Thomas Cox is a 'grey-sky' thinker. He is concerned by levels of air pollution in dense urban centres. Smog, caused by the release of Nitrogen Oxides from internal combustion engines, is a major health issue in the world's largest population centres such as Los Angeles, Beijing and Delhi, and is becoming increasingly prevalent in London. Thomas' response is a building design that he calls the 'Sky-Farm'.
"The Sky Farm is covered in beans and pulses that take in nitrogen from the air and store it in their roots. Essentially, you have a big greenhouse, which is cleaning up air pollution and converting this into green fertiliser and food."
Thomas designed his Sky Farm to sit on a small footprint of land in Battersea, on the south bank of the river Thames in London. "The 'Sky Farm' was designed to be a small-scale supplement to traditional farming, but I worked out that it could sustainably feed half of the population of the borough of Battersea – approximately 40,000 people."
"I think we need to plan now, so we're ready to act when population increase starts to detrimentally affect our quality of life. I know that's a bit of a bleak vision, and we're maybe talking 100 years' time, but we need to stay ahead of the curve."
Matt and Thomas will be joining the fray at Agri-TechE's 'Controlled Environment Agriculture – The Industry is Growing Up' conference, alongside some twenty other speakers. Other participants include: IGS, world-leaders in vertical farm engineering; LettUs Grow, looking at total in-farm automation; and Growpura, designing hydroponics solutions on a massive scale.
The all-day event will be held at The John Innes Centre, Norwich Research Park NR4 7UH on 18th March, 9:00am – 5:00pm. For tickets or more information, please visit www.agri-tech-e.co.uk/events
About Agri-TechE www.agri-tech-e.co.uk
Agri-TechE is a business-focused membership organisation that is supporting the growth of a vibrant agri-tech cluster of innovative farmers, food producers and processors, scientists, technologists and entrepreneurs.
Agri-TechE brings together organisations and individuals that share a passion for improving the productivity, profitability and sustainability of agriculture. It aims to help turn challenges into business opportunities and facilitate mutually beneficial collaboration.
Comments (0)
This post does not have any comments. Be the first to leave a comment below.
---
Post A Comment
You must be logged in before you can post a comment. Login now.
Featured Product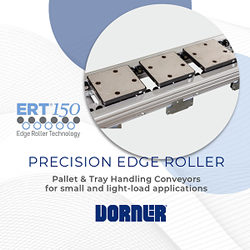 The next evolution in Dorner's Edge Roller Technology conveyor platform, the ERT®150, is ideal for small and light-load assembly automation, as well as medical and medical-device assembly application. The ERT platform is the only pallet conveyor of its kind available with an ISO Standard Class 4 rating for cleanroom applications. Earning the ISO Standard 14644-1 Class 4 rating means Dorner's ERT150 will conform and not contribute to the contamination of cleanrooms to those standards. As implied by its name, the ERT150 (Edge Roller Technology) uses rollers to move pallets through the conveyor smoothly with no friction (a byproduct often seen in belt-driven platforms). The conveyor's open design eliminates concerns of small parts or screws dropping into rollers and causing conveyor damage or jamming. The ERT150 is suited to operate in cleanroom environments requiring a pallet handling conveyor. It is capable of zoning for no or low-back pressure accumulation and is ideal for automation assembly applications within industries including medical devices, electronics, consumer goods among others.