Forbes Announced AgTech Summit In Indianapolis With Focus On The Future Of Food, Animal Health, Soybeans And More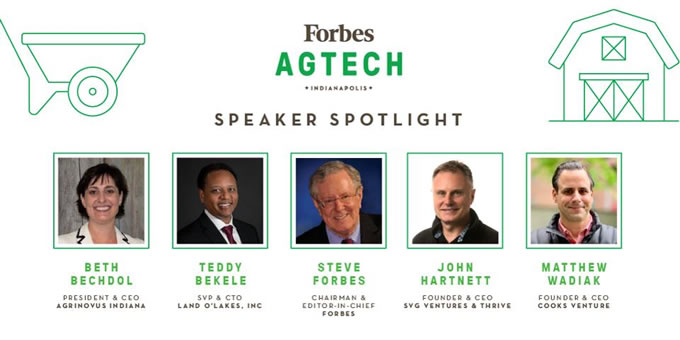 Forbes today announced its second annual Forbes AgTech Summit in Indianapolis, taking place Sept. 18-19. Following up on the Forbes AgTech Summit in Salinas in June, this event will continue the conversation around the "future of food," with a special focus on animal health, protein and crops like soybeans that are produced in the Midwest. It will explore solutions to the critical challenges affecting the world's food supply.
Key speakers include Beth Bechdol, President & CEO, AgriNovus Indiana; Teddy Bekele, SVP & Chief Technology Officer, Land O'Lakes, Inc.; Virginia Emery, Founder & CEO, Beta Hatch; Neal Gutterson, Chief Technology Officer, Corteva Agriscience; John Hartnett, Founder & Chief Executive Officer, SVG Ventures & THRIVE AgTech; Steve Forbes, Chairman & Editor-in-Chief, Forbes; Luke Saunders, Founder & CEO, Farmer's Fridge; Jennifer Sirangelo, President & CEO, National 4-H Council; Mark Stewart, President & CEO, Agriculture Future of America; Matthew Wadiak, Founder & CEO, Cooks Venture; and Susanne Wasson, President–Crop Protection Business Platform, Corteva Agriscience. Additional speakers will be announced in the coming weeks.
The Forbes AgTech Indianapolis summit will foster lively debate, welcoming new perspectives and generating rich networking opportunities within the agricultural, biotechnology and FoodTech communities. The event will begin with an opportunity to tour cutting-edge farming technologies at one of Indiana's leading businesses. It will also feature a Forbes/THRIVE Midwest Challenge featuring five to seven startups selected from a pool of nearly 100 applicants from 26 countries who will pitch and compete for a chance to win investment from SVG Ventures, secure a place in the THRIVE VI AcceleratorProgram, plus an advertisement in an upcoming issue of Forbes magazine and the opportunity to present at Forbes' Under 30 Summit in October. The Innovation Showcase will feature 40 of the most cutting-edge agtech startups, offering a wide variety of solutions to today's challenges.
Highlights for the agenda include a focus on the 2019 growing season and the technologies that are helping to mitigate potential future losses, how regenerative agriculture can help the ag industry reduce its carbon footprint, as well as a session detailing the global exchange of agriculture innovation – from China to Brazil. Attendees will also hear about biotech innovations in microbes, soybeans and the future of food, and what's next for animal health.
Comments (0)
This post does not have any comments. Be the first to leave a comment below.
---
Post A Comment
You must be logged in before you can post a comment. Login now.
Featured Product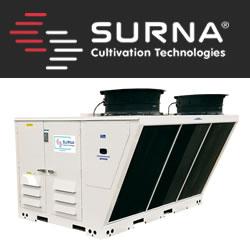 The EnviroPro Packaged DX HVACD Unit utilizes hot gas reheat to provide both cooling AND dehumidification all in one central unit. Its variable speed components allow it to make more nuanced adjustments, saving energy and avoiding temperature swings that can come from single-stage equipment. Due to its affordability, versatility, and industry-leading warranty, the EnviroPro Packaged unit is one of Surna's most popular HVAC offerings.