C2-A2 AGRODROID – world's new Smart Farming product
Cognitive Technologies – one of the top developers of AI-based systems for self-driving cars and autonomous transportation – announces the launch of the world's first C2-A2 AGRODROID (Cognitive 2 – Agro 2 – Droid 1), an industrial model of the universal control system for autonomous agricultural machinery.
"C2-A2 is an artificial brain that is equipped with a cradle – a universal device for fast connection with different agricultural
machinery: harvesters, tractors, sprayers and others, – says Olga Uskova, president of Cognitive Technologies, – Within our team we consider C2-A2 as a brother-in-law of the world-famous R2-D2 (an astromech droid character of the Star Wars epic space opera)".
"Installation of C2-A2 AGRODROID makes any harvester or tractor autonomous and any agricultural activity smart. Supplying the solution with a cradle makes it possible to move this artificial brain from one machine to another without purchasing a new system each time", – continues Olga Uskova.
The C2-A2 AGRODROID is developed on the basis of the Cognitive Agro Pilot – an autonomous driving system for agricultural machinery that was presented earlier. The key innovation of the new product is the state-of-the-art Convolutional Neural Network (CNN) that was modified by the Cognitive Pilot team for agricultural purposes and tasks.
"On international agricultural market this is the first product of such type that is based on standard Nvidia computing device (Nvidia Jetson
TX2) with deep neural networks", – claims Uskova.
An important feature of the new product is a complete safety of all the fieldworks. In comparison with the existing autonomous driving systems for agricultural machinery, which are GPS-based, the neural networks based C2-A2 opens a new class of systems that is able to protect equipment and people from all possible collisions.
Another competitive advantage of the presented solution is the lack of expensive sensors. Unlike other analogues that use expensive laser scanners (Lidars) and stereo cameras, Cognitive Technologies team has developed such a computer vision system that is able to achieve similar results with the use of just one single video camera.
The use of just one sensor, not 3 or 4 as proposed by other manufacturers, allows to reduce the cost of the whole solution by 3-5 times. The final cost of the C2-A2 AGRODROID will be about 3.000 USD, which is approximately 1.5% of the cost of the combine harvester and about 3% of the cost of the tractor.
"We estimate the agrodroids market volume at 94 billion USD and expect to get at least 15% market share in the next five years. The world's tractor fleet that is ready for our solution is about 27 million machines", – concludes Olga Uskova.
Priority markets include: Canada, Ireland, France, Argentina, Brazil, South Africa and Kazakhstan.
Among the technical characteristics of C2-A2:
- Autonomous movement – plowed ground / unplowed ground.
- Autonomous movement – mowed field / unmowed field.
- Autonomous movement along the rigs.
- Autonomous movement along the rolls.
- Autonomous U-turns at the end of the field.
- Autonomous crops unloading into a bunker or truck.
- Ability to work at night and bad conditions.
Comments (0)
This post does not have any comments. Be the first to leave a comment below.
---
Post A Comment
You must be logged in before you can post a comment. Login now.
Featured Product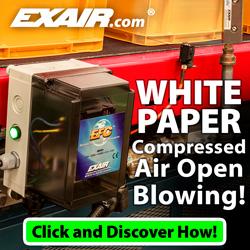 Compressed air is a limited resource that is generated in-house for the benefit of many operations within the manufacturing environment. Learn how to ensure all point of use applications are using your compressed air in the most effective and efficient way possible. Learn how much it costs to produce that compressed air and how Engineered Nozzles can help you use your air more effectively and efficiently.