As California's labor shortage grows, farmers race to replace workers with robots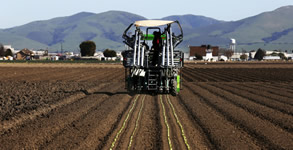 Geoffrey Mohan for LA Times: Driscoll's is so secretive about its robotic strawberry picker it won't let photographers within telephoto range of it.
But if you do get a peek, you won't see anything humanoid or space-aged. AgroBot is still more John Deere than C-3PO — a boxy contraption moving in fits and starts, with its computer-driven sensors, graspers and cutters missing 1 in 3 berries.
Such has been the progress of ag-tech in California, where despite the adoption of drones, iPhone apps and satellite-driven sensors, the hand and knife still harvest the bulk of more than 200 crops.
Now, the $47-billion agriculture industry is trying to bring technological innovation up to warp speed before it runs out of low-wage immigrant workers.
California will have to remake its fields like it did its factories, with more machines and better-educated workers to labor beside them, or risk losing entire crops, economists say. Full Article:
Comments (0)
This post does not have any comments. Be the first to leave a comment below.
---
Post A Comment
You must be logged in before you can post a comment. Login now.
Featured Product
The C-series high performing inertial sensor package provides an OEM form-factor that is optimized for size and weight in Off Highway, Unmanned Ground Vehicles/Mobile Robots and Unmanned Aerial Systems. It's compact and low-profile anodized aluminum housing can be connected directly to a printed circuit board using a UART header or a Samtec FFSD ribbon cable and 2-56 fasteners.