Owner of Popular Brands Like Green Giant, Skinnygirl and Ortega Under Pressure for Use of Pesticides that Harm Farmworkers and Pollinators, Lack of Regenerative Agriculture Practices.
WASHINGTON, DC - November 14, 2023 - Green America launched a new advocacy campaign against B&G Foods to urge the company to limit pesticide use and adopt environmentally responsible agriculture practices. The New Jersey-based holding company, which owns dozens of popular brands including Green Giant, Skinnygirl, Ortega, Fleischmann's, Cream of Wheat, Spice Islands and Crisco, received an "F" grade in the recent "Pesticides in the Pantry" scorecard released by the nonprofit As You Sow that graded the pesticide practices of major food companies.

On October 11, Green America sent B&G CEO Kenneth Keller Jr. a letter on behalf of its members, including over 250,000 consumers and 2,000 businesses. The letter requested a meeting about reducing the use of pesticides in B&G's supply chain and adopting regenerative agriculture practices. B&G has yet to respond.
Emma Kriss, food campaigns manager at Green America, said: "We are urging B&G to become a 'green' agricultural giant by phasing out harmful pesticides, adopting regenerative agriculture, and implementing policies to protect workers and communities from pesticide exposure."
Kendra Klein, deputy director of science at Friends of the Earth, said: "Amid rising concern about an insect apocalypse decimating the small but mighty pollinators responsible for one in three bites of food we eat, food companies like B&G Foods must take immediate action to address the pervasive use of toxic pesticides in their supply chains."
The campaign petition urges B&G to:
• Adopt a plan to transition all supply chains to ecological regenerative agriculture by 2035 through techniques like no-till farming, cover-cropping, and crop rotation.
• End use of highly hazardous pesticides, phase out all harmful pesticides, and adopt Integrated Pest Management for all brands.
• Implement policies to protect farmers, farmworkers, communities, and pollinators from pesticide exposures.
In anticipation of the Green America campaign and As You Sow scorecard, B&G posted a hasty statement on pesticides. But the statement is very vague. B&G must create a meaningful plan and timeline for addressing pesticides and regenerative agriculture.
Based on publicly available information, B&G currently does not have a pesticide reduction strategy or any public disclosures regarding pesticide policies or practices. There is also no information regarding the adoption of regenerative agricultural practices, which include techniques like no-till farming, cover-cropping, and crop rotation to improve soil health, capture carbon, retain nutrients, hold moisture, and reduce erosion.
B&G should adopt a rigorous integrated pest management (IPM) program to reduce and phase out all synthetic pesticide use. IPM utilizes natural predators and parasites, biological controls, and improved sanitation to control pests. This approach minimizes environmental impact and reduces pesticide residues in food and water.
The campaign also urges B&G to implement health and safety policies that exceed EPA regulations to protect farmworkers and communities from pesticide-related illnesses. Mandatory protective equipment, proper education on the pesticides in use and their risks (in native languages as appropriate), enforced re-entry intervals, pesticide application buffers from homes and schools, and regular biomonitoring of farmworkers' blood can better safeguard workers and families from avoidable harm.
Transitioning to regenerative agriculture and reducing pesticide use is critical for the future of food production. Unlike many large agricultural companies, B&G is failing to act on harmful pesticides that endanger consumers, farmers and farmworkers, agricultural communities, and pollinators. As a leader in the food industry, the actions B&G Foods take can catalyze much-needed change.
ABOUT GREEN AMERICA
Green America is the nation's leading green economy organization. Founded in 1982, Green America provides the economic strategies, organizing power and practical tools for businesses and individuals to solve today's social and environmental problems. http://www.GreenAmerica.org
Featured Product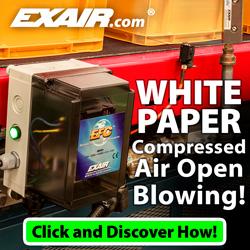 Compressed air is a limited resource that is generated in-house for the benefit of many operations within the manufacturing environment. Learn how to ensure all point of use applications are using your compressed air in the most effective and efficient way possible. Learn how much it costs to produce that compressed air and how Engineered Nozzles can help you use your air more effectively and efficiently.