Farmplan's livestock management software customers, including Cattle Manager and Sheep Manager, are upgrading to the Herdwatch platform.
Herdwatch, the market-leading farm software company founded in 2012, and Farmplan, founded in 1972 and part of Proagrica, have announced a new partnership that will see all Farmplan livestock software customers upgrading to the Herdwatch platform, starting this month.

This partnership will upgrade those customers who are currently using Farmplan's livestock software suite, specifically dedicated to sheep and cattle products such as Livestock Manager, Cattle Manager and Sheep Manager. Herdwatch will deliver a robust, integrated, and feature-rich platform. Customers who are using Farmplan's financial, cropping or hardware products and services will continue to have access to the same unrivalled support, as these areas remain unaffected by the partnership.
Piers Costley, Farmplan by Proagrica Managing Director, said, "Great care was taken to find the perfect partnership to provide this upgrade to our cattle and sheep software customers. Herdwatch is already used on more than 18,000 farms across the UK and Ireland. They provide access to cutting edge technology and were deemed the best suited partner on the market. Herdwatch is a natural and logical partner that will equip users with access to valuable cloud integration to future-proof their operations."
Fabien Peyaud, CEO and co-founder of Herdwatch said, "We are honoured that Proagrica have selected Herdwatch as the natural solution to upgrade their Farmplan livestock software. We have a very similar ethos and look forward to welcoming customers to the Herdwatch platform as we continue our investment in the future of British farming. Our easy-to-use, cloud based solution can be used by multiple users, to access multiple holdings, on multiple devices, making it the perfect solution for Farmplan sheep and cattle software customers."
Featured Product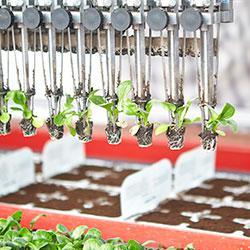 "Smart farming" is an important part of the answer to this existential question: Extremely high efficiency in food production through the targeted use of the latest technology, computer-supported and - where possible - fully automatic. Seeds are individually and precisely placed; fruits carefully picked by mechanical grippers; fertilizers and plant protection products applied in small doses and in a targeted manner. These operations require a large number of small electric motors that are both robust and powerful.