FarmAi leverages Machine learning and AI, transforming animal welfare standards, responsible dairy production, and improving farm operations for global responsibility & environmental sustainability
ElectrifAi, a global leader in prebuilt Machine Learning and Computer Vision solutions, is taking giant strides toward harnessing cutting-edge technologies such as Computer Vision to make livestock farming more efficient, ensure livestock health and well-being, optimize operations, drive productivity, and enhance environmental sustainability. FarmAi, our latest cutting-edge solution, is bringing that vision to reality.

As the world's population proliferates, the demand for dairy and livestock products is rising. Farmers and producers must meet this demand responsibly, but labor shortages make it more challenging. FarmAi's advanced computer vision technology for dairy farmers offers a plug-and-play, cost-effective, and scalable solution to monitor livestock, ensure their safety and care, and improve farm operations. FarmAi can monitor 30+ cameras 24 hours a day, seven days a week in near real-time, and never miss a frame compared to the inherent limitations associated with professionally trained human video watchers. Today, a dairy farm needs to employ full-time human resources to watch the recorded video footage from the previous day and manually create incident reports. A manager then reviews the reports, aggregates and categorizes all incidents and creates an action plan for the dairy owner to review. With FarmAi, the farm owner can receive near real-time categorized incident reporting without the need for human watchers or management review.
Here's how ElectrifAi leveraged FarmAi to help a leading livestock operator derive deep, meaningful insights to make critical decisions regarding animal behavior, welfare, safety, and farm operations while minimizing costs:
The client wanted to monitor all human and animal interactions to ensure proper farm protocol was followed across various interactions such as feeding, milking, birthing, and everyday veterinary procedures to ensure animal welfare. Additionally, they wanted to develop a tool to detect abnormal behavior that can help promptly identify protocol drift to help employees that may need additional training, or retraining, to fully understand the expectations of their role on the farm. ElectrifAi developed proprietary animal detection, tracking, interaction models, and abuse and anomalous behavior models to detect and record improper human-animal interaction, animal-to-animal, and abnormal lone animal behavior 24x7. With FarmAi, the client is also better equipped to detect protocol drift and intervene early, thus preventing potential future abuse by allowing the farm owner to take corrective action early with near real-time information.
The solution was able to monitor all active cameras 24/7 and summarize over 700 hours into approximately one hour of daily review clips for the dairy owner to review. During daily review the dairy owner is solicited for feedback on the clips received and therefore contributes to the continuous improvement, and improve accuracy, of the system over time. "With the help of FarmAi, we have now been able to demonstrate that the software meets and exceeds the ability of our human watchers to monitor human and animal interactions across our operation. Through this we further ensure that our animal husbandry standards are being met daily" - Caleb Herrema, one of the nation's leading mid-west, family-owned farm operators.
"FarmAi will continue to tackle other hard problems in farming and impact the farm business positively and quickly with data," added Edward Scott, CEO, ElectrifAi. "FarmAi is consequential to long-term food security and sustainability by cutting costs while ensuring high-quality animal agriculture. Our software ensures that the farms operate with the highest level of animal welfare and safety across the entire operation. We look forward to onboarding other farms that take animal welfare seriously."
With such demonstrated successes, ElectrifAi continues to raise the bars of innovation to drive superior business outcomes for our clients with the power of data. The launch of FarmAi has further cemented our position as one of the most trusted partners to move the needle with prebuilt ML solutions toward consequential growth and profitability.
About ElectrifAi
ElectrifAi is one of the U.S.' leading ML solutions providers serving large and mid-sized enterprises with an extensive library of prebuilt solutions enabling our clients to capture tangible benefits quickly. We work with the C-suite to understand and solve business problems through data and machine learning, delivering business outcomes starting in 8 weeks. ElectrifAi is headquartered in Jersey City, with offices in Shanghai and New Delhi. https://www.electrifai.com/
Featured Product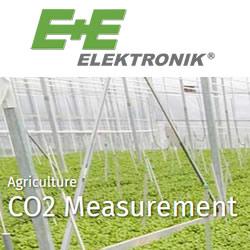 Lowering of energy costs, acceleration of growth and extension of the possible storekeeping duration can be optimised by the precise measurement of humidity, CO2-content and temperature. Optimum basic conditions for animals and plants ensure best agricultural products. As different applications demand various adopted solutions for optimization of agricultural processes, E+E Elektronik provides a broad portfolio of agricultural monitoring products