AgTech veteran and former Corteva Agriscience CTO to provide global industry perspective and invaluable scientific expertise to innovative bio-ag startup
Seattle, WA (March 7, 2023) - Trillium Ag, a sustainable bio-agriculture company modernizing crop protection, today announced that longtime AgTech industry leader Neal Gutterson, PhD, has joined the company's Board of Directors. Broadly recognized as a leading innovator and visionary in agricultural biotechnology, Gutterson brings decades of experience in the development of sustainability-driven innovation with a goal of solving some of agriculture's biggest challenges.

Gutterson is currently Partner and Chief Technology Officer at Radicle Growth, an early stage sustainable ag and food tech fund, following his retirement from Corteva Agriscience as Chief Technology Officer in 2020. While at Corteva, Gutterson led initiatives focused on the development of scientific innovation to support the success of farmers throughout the world.
"We are at a critical crossroads in agriculture and there is an urgent need for new crop protection strategies in order to secure the future of our food supply and success of growers around the globe," said Todd Hauser, Co-Founder and CEO of Trillium Ag. "We are excited that Neal shares our vision and we look forward to embracing his vast insights to further elevate and solidify our commitment to developing better and more sustainable crop protection options in agriculture."
Prior to joining DuPont in 2014, which later became Corteva Agriscience, Gutterson served as the CEO of Mendel Biotechnology, a leading plant biotechnology company. Over the years, Gutterson has served on numerous Boards, including serving on the CGIAR System Board since fall 2020.
"I am committed to helping global agriculture become more sustainable and productive, delivering value to farmers around the world," Gutterson commented. "Trillium Ag has established a unique technology platform that could help fully realize the as-yet undelivered promise of RNAi as a broadly applicable crop protection category. I'm excited to work with Todd to help bring this promise to fruition."
Trillium Ag is currently working to bring its patented crop protection platform, Agrisome, from the research and development stage to broad scale agricultural application. Agrisome
utilizes naturally-derived protein coated RNA molecules creating a new class of biologicals
that address and solve challenges that have hindered prior RNAi-derived crop protection attempts. The platform has proven efficacy in both in vitro and in vivo models and Trililum Ag is currently collaborating with the industry's top commercial and academic leaders to further confirm broad scale commercial feasibility. Additionally, Trillium Ag is home to a pipeline of bio-agricultural products currently in development.
About Trillium Ag
Founded in 2016, Trillium Ag is a sustainable bio-agriculture company uniting technology and RNAi innovation to modernize crop protection practices. Based in Seattle, WA, the company's mission is to develop more effective and sustainable options for the success of growers worldwide. At the forefront of bio-agricultural innovation, Trillium Ag is committed to fulfilling the promise of RNAi in agriculture. The company's patented Agrisome platform combines protein and RNA into self-forming entities enabling sustainable crop protection that is effective, scalable, deliverable and programmable. To learn more about Trillium Ag and the future of crop protection, please visit www.trilliumag.com.
Featured Product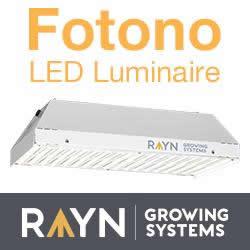 Fotono is a full spectrum LED horticultural luminaire designed to directly replace HPS lights in greenhouses. At 12 pounds, 20 inches long, and 5 inches high, Fotono's compact size makes installation simple while minimizing structural burden on greenhouses. This compact fixture packs energy-saving and yield-improving features, such as a high output, stepless dimming, advanced spectral capabilities, and more.