-Wikifarmer has raised a late seed round of €5M, led by top European VC firm Point 9 -Wikifarmer's mission is to democratize agriculture by creating the leading B2B marketplace for agricultural products in Europe and becoming the leading source of free agricultural knowledge -Fundraising will enable the startup to hire new talent, expand across Europe, enhance its knowledge library, and launch innovative product features
Wikifarmer, the direct farmer-to-business agricultural marketplace—aptly described as the "Wikipedia of farming"—has raised a €5M in a late seed round, led by Point Nine.

The Athens-based startup will use the funding for pan-European expansion and to enrich its knowledge library. It will further enhance its platform to fully digitize transactions end-to-end, and offer innovative financial and logistic solutions to both buyers and sellers.
As a whole, Wikifarmer is an ecosystem that supports farmers from start to finish. It enables them to learn, sell and make their business lives easier.
On the supply side, farmers receive the value they deserve: they produce more efficiently, sell directly, and enjoy an increase in their profitability by up to 300%. Higher profitability for farmers means a higher capacity for investments in production, higher employment, and higher sustainability.
On the demand side, Wikifarmer acts as a purchasing assistant for B2B buyers, such as wholesalers, larger hotels, restaurant chains, small and medium size retailers, or food processing units. It provides hassle-free sourcing of agricultural products, helps parties to negotiate prices efficiently online, offers logistics support, ensures security and transaction transparency and facilitates 60 - 90 days of credit.
What's next?
"Our vision is to restructure the supply chain, digitize processes, and ultimately generate more value for all parties involved. Our mission is to become Europe's leading B2B trading platform within the next two years. This round of funding will allow us to accelerate our product development in order to offer 360° coverage of agricultural transactions" explains Wikifarmer's Co-Founder and CEO, Ilias Sousis.
Petros Sagos, Co-Founder and Chief Science Officer, concludes: "Above all, we hope this funding will enable us to turn our long-standing vision into reality: democratize agriculture and support farmers in modernizing their techniques, selling their products, and earning the value they deserve"
Point 9 is a B2B SaaS and B2B marketplace-specialized VC firm with investments such as Revolut, Delivery Hero, Docplanner, and cargo.one and one of the highest "seed-to-winner" rates in the industry. The round was complemented by relevant Business Angels (the founders of cargo.one, Nikos Moraitakis - co-founder and CEO of Workable, Przemyslaw Budkowski - CEO of Merxu, Cihan Aksakal - founder of Zenjob, Louis Pfizner - founder of Caya.com and Treatwell), as well as prior investors including leading Greek VC Metavallon, plus angels such as Sophia Bendz.
"B2B marketplaces, which bring mostly analog industries online, are a core area of focus for us at Point Nine. We have been partnering with one or two new B2B marketplaces every year, for the last 7 years, including REKKI (restaurants) in 2016, Container xChange (containers) and Laserhub (metal parts) in 2017, cargo.one (air cargo) in 2018, MerXu (industrial products) in 2019, Rooser (seafood) in 2020, and now Wikifarmer. The food industry is gigantic and presents its own challenges, but we've been impressed by Ilias's and Peter's unique approach to digitizing the industry. We're excited to play a small role in their long-term success" says Louis Coppey, partner at Point Nine.
The Industry and Context
In addition to being the no.1 employer[1] in the world, the agrifood industry generates a total turnover of 1.2 trillion Euros in Europe alone[2] and has a major impact on the everyday life of every single person on the planet. Yet, a significant number of farmers still lack access to modern agricultural best practices, and it remains one of the least digitized sectors. The pandemic, the outbreak of the war in Ukraine, along with climate change, population growth predictions, and the scarcity of natural resources have all had a major impact on the supply chain, and eventually, the food on our plates. The past few years have been challenging for the agrifood sector, placing increased demands on food security and sustainable solutions. Wikifarmer responds to the need for new technologies and ideas that have the potential to reshape agriculture, and this is reflected in the startup's growth.
The Product
Wikifarmer is an ecosystem of content and agricultural products that promote a fairer, more transparent and sustainable value chain in the food industry. With Wikifarmer, farmers can sell their output to multiple buyers, achieve a better price, monitor fair market prices, and access international markets. The startup also offers instant payments to farmers and helps them with logistics and financing, allowing them to increase their profitability on the Wikifarmer marketplace. At the same time, it provides them with a wide collection of agricultural best practices and how-to guides, which have been translated into 16 languages and are freely accessible on the Wikifarmer Library.
On the platform, farmers can use the Wikifarmer library to upgrade their techniques, in order to improve the quality of their produce and boost their efficiency. Then, they can upload their products on the Wikifarmer Market and sell directly to buyers from all over the world.
The story behind the startup
Looking back to where everything started, the founding team is a metaphor for Wikifarmer's mission: matching digitization with agricultural science. CEO Ilias Sousis, a senior ex-Googler for 11 years, and Chief Science Officer Petros Sagos, an accomplished agronomist, have been best friends since primary school. "We started Wikifarmer because we thought things should be done differently" they explain.
Today, Wikifarmer is approaching 1m unique visitors per month. It has allowed thousands of businesses to slash costs by up to 30%, enabling farmers to sell their products without intermediaries, while growing their potential clientele, reducing waste, and tripling their profitability. The Wikifarmer library has been dubbed the "Wikipedia of Farming" by the United Nations and is now available in 16 languages.
About Wikifarmer
Wikifarmer is a global platform whose mission is to empower farmers by offering them education as well as direct access to commercial markets, so they can sell their products at fair prices.
About Point Nine
Founded in 2011, Point Nine is a European early-stage venture capital firm focused on B2B SaaS and B2B marketplace start-ups in Europe and North America. The firm is a seed investor in more than 150 companies in over 30 countries, including Algolia, Brainly, Chainalysis, Clio, Contentful, Delivery Hero, DocPlanner, Front, Loom, Mambu, Revolut, and Typeform, amongst others. Point Nine has one of the highest "seed-to-winner" rates in the industry.
About Metavallon
Metavallon VC specializes in pre-seed and seed-stage funding of disruptive technology companies. The firm invests in and works alongside ambitious entrepreneurs, helping them build transformational businesses across multiple stages, geographies and industries. Metavallon VC's mission is to engage at a very early stage and invest in companies that will operate at the forefront of business and technology innovation.
Featured Product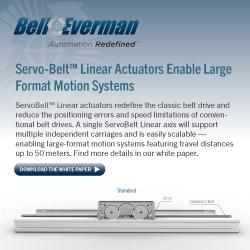 Manufacturing and packaging operations that still depend on manual material or parts handling operations can reap immediate benefits from a type of automation based on long-travel Cartesian robots with custom end-of-arm tooling (EOAT) and advanced sensing capabilities. These robots can support a variety of machines - performing otherwise manual tasks such as machine tending or transferring in-process parts - making long-travel Cartesian transfer robots a major upgrade to processes and operations. Download the White Paper from Bell-Everman