Agri-Tech Week (7th-11th November 2022) showcases how farmer challenges are creating innovation opportunities that enhance competitive advantage
For tech companies offering automation, remote sensing, supply-chain logistics, satellite imaging and decision-support technologies, the digitisation of the agri-food industry now offers a major opportunity, as investment from Amazon, Google and Microsoft has demonstrated.

"We are seeing a step-change in agri-tech innovation driven by concerns over food security, adverse environments, geo-political challenges and enabled by technologies such as digital twins," says Dr Belinda Clarke, Director of Agri-TechE, an industry membership organisation that is helping to facilitate the rapid growth of an agri-tech innovation ecosystem.
Many progressive farm businesses are using internet-enabled sensors to monitor everything from livestock health to soil moisture content and are looking for better ways to model the output to provide actionable insights. This is to be discussed at Agri-TechE's flagship conference, REAP, attended by technologists, growers and producers, being held on 8th November 2022 in Cambridgeshire, UK as part of Agri-Tech Week.
Agri-Tech Week runs from 7th-11th November, featuring a mix of in-person and virtual events, coordinated by Agri-TechE working closely with partners across the innovation ecosystem, and aims to provide opportunities to attract new customers and partners and to broker collaborations and international connections.
This year's REAP Conference has the theme ā€˜Making Sense of Agriculture' and is looking at new ways of digitising farming systems - combining data from the field and remote imaging with information about climate, economic conditions and market requirements to create models that can accelerate the identification and adoption of beneficial practices. It has Elizabeth Fastiggi, Head of Worldwide Business Development for Agriculture at Amazon Web Services (AWS), as the keynote speaker.
Belinda comments: "Several of our farming and research members are investigating the potential of digital twins - virtual models of real-world systems. We are seeing these models being developed for open field systems by salad growers and livestock producers, in vertical farms and even vineyards. These are industry-changing developments."
The falling cost of sensors combined with low-orbit satellites is enabling improved connectivity in rural environments and precision control of all agricultural operations.
Ian Beecher-Jones of JoJo's Vineyard, based in the Chilterns, saw the potential to automate labour-intensive tasks, but in order to introduce robotics he first needed to digitise the vineyard accurately and make a virtual representation that is shareable. The result is a digital vineyard that will enable rapid onboarding of new technologies.
Ian explains: "I had a drone company here recently that wanted to fly the vineyard to try out some new grape AI analysis to model vine growth; we have another company wanting to use a GoPro to capture images of the grapes before being sent to Australia for analysis. Another request was from a PhD student looking at the relationship between yield mapping and forecasting.
"Currently, onboarding technology for this type of trial is very time-consuming and costly. It can also be very dull for the grower, who may have to go through the process multiple times! A digital vineyard is an industry-changing development."
Digital Twin technology is also being considered for field crops. Salad producer G's Growers sell over 100 million iceberg lettuces to the UK market, each cut and packed by hand. The plants are grown in strips on rich fenland soil, with several varieties to a field to provide resilience against adverse conditions.
The teams work 24/7 with a highly perishable commodity to meet exacting conditions of the contracts - the heads must be consistent in size, and the quantity required changes daily according to consumer demand.
Precision application of fertiliser, determined by analysis of drone imagery, enables every lettuce head to be treated individually to ensure consistency across the crop ahead of harvesting.
The company is looking at automating the harvest, implementing a smart irrigation system, and streamlining its logistics - it coordinates several hundred vehicles each week to bring in produce from its overseas operations - and is interested in the potential of digital twins to model both the agronomic and economic factors impacting the business.
John Barrett, Director of Sentry Ltd and chair of the Agri-TechE Stakeholder Committee, says that smarter use of resources and land is essential to be profitable, especially as the Basic Payment Scheme for farmers is being withdrawn. He says: "The future lies in creating an agricultural system that is working with the environment as well as making a return to stakeholders in order to carry on investing in their futures. Improving the technology for decision support will help us to manage these variables."
Agri-Tech Week (7th-11th November 2022) is turning these farmer challenges into opportunities that create competitive advantage. For technologists looking to move into agriculture the REAP conference offers an opportunity to network with growers and producers.
Find out more at agri-tech-e.co.uk and reapconference.co.uk.
Featured Product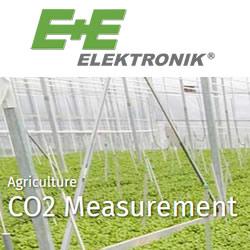 Lowering of energy costs, acceleration of growth and extension of the possible storekeeping duration can be optimised by the precise measurement of humidity, CO2-content and temperature. Optimum basic conditions for animals and plants ensure best agricultural products. As different applications demand various adopted solutions for optimization of agricultural processes, E+E Elektronik provides a broad portfolio of agricultural monitoring products