A brand new certification has launched today for vertical farming – Sustainable Indoor Farming.
Vertical Farming is a rapidly growing, cutting edge, technology-driven food production system in a controlled environment, where space, water, and nutrient efficiency is maximised through growing plants in vertically stacked soil-less substrates.

Other areas of environmentally conscious agriculture such as organic, free range and the increasingly popular regenerative approach are provided with legitimacy and robust scrutiny through certifications schemes. And so, Control Union are proud to announce the launch of the new Sustainable Indoor Farming certification, filling a gap to provide certification services to the vertical farming sector.
The scheme comprises a set of sustainability criteria tailored to vertical farming, with consistent data collection and continuous improvement as core values. It ensures that they key environmental benefits of vertical farming - absence of pesticide use, stronger nutrient efficiency, and a significant reduction in water use - are being realised.
The Sustainable Indoor Farming standard has been developed by Control Union UK, a leading global certification body with extensive experience in developing certification standards, in collaboration with the Association for Vertical Farming, a leading global industry group for vertical farming.
The standard was developed over the course of several rounds of consultation where industry, technology providers, and academic research were represented, and could bring forward their views. The Association for Vertical Farming will own the standard ongoing, with Control Union acting as the sole certification body.
Christine Zimmermann-Loessl, Chairwoman of the Association for Vertical Farming comments:
"Burgeoning industries really need certification to push them to the next level, and that is what the AVF and Control Union have achieved in launching the Sustainable Indoor Farming certification. We look forward to gathering reliable data and driving progress for the industry."
From today both start-ups and established companies engaged in vertical farming are invited to apply for Sustainable Indoor Farming certification, via the 'enquire here' button on the top left of this page.
Henry Ernst from Control Union UK states:
"With the launch of the Sustainable Indoor Farming program, an environmental sustainability certification scheme tailor made for vertical farming has, for the first time, been established. Our hope is that this program drives further efforts in environmentally conscious Vertical Farming and sheds a light on these production realities to consumers. This is an important first step, and we hope to evolve alongside the industry as we continue to promote and reward sustainable practices."
Certifications are granted based on the outcome of a two-part audit process, starting with a desk-based review of the production facility, followed by an in person visit on site. Applicants should expect the process to take around six months from initial enquiry through to certification. Once granted, certificates are valid for 4 years, dependant on successfully passing an annual surveillance audit, which is a reduced version of the initial process.
Certified companies will benefit from an independent, robust label denoting that they are ensuring sustainable practices are in place, along with a continuous improvement plan. This should lead to better market access, and to consumers understanding the environmental benefits of vertically farmed produce.
For more information about the Sustainable Indoor Farming Certification please email certificationsuk@controlunion.com or call +44 (0)20 7488 2210.
Featured Product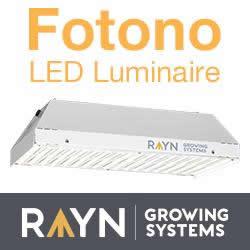 Fotono is a full spectrum LED horticultural luminaire designed to directly replace HPS lights in greenhouses. At 12 pounds, 20 inches long, and 5 inches high, Fotono's compact size makes installation simple while minimizing structural burden on greenhouses. This compact fixture packs energy-saving and yield-improving features, such as a high output, stepless dimming, advanced spectral capabilities, and more.