Joint mission to support soil health: Syngenta and Biome Makers team up within the scope of the LIVINGRO™ Regenerative Agriculture initiative.
Biome Makers BeCrop® technology is used across the globe to deliver insights into soil biology and sets the standard for soil health. Syngenta's R&D-led LIVINGRO™ program will utilize BeCrop® to make science-based decisions that support the production of safe, healthy food while preserving and improving biodiversity and soil quality in agricultural ecosystems.

LIVINGRO™ is a platform that comprehensively assesses biodiversity and soil health parameters in farming ecosystems. It fosters scientific research in the most effective regenerative farming protocols to help growers improve on-farm biodiversity and safeguarding soils for future generations. This is accomplished in collaboration with globally recognized biodiversity, ecology, soil science, and agronomy specialists. Gina Swart, Global Head of Product Biology Disease Control at Syngenta says, "Anybody can sequence the DNA of the soil microbiome and produce vast amounts of data through next generation sequencing. The real value is in understanding what the data shows and what you do with those insights." Swart adds, "Biome Makers' BeCrop® Technology makes sense of the data and generates actionable soil health metrics. This data is highly valuable to our customers as it enables them to produce more sustainably while revitalizing soil functionality and improving soil health."
Biome Makers' independent and patented BeCrop® technology has the largest global database of 10M taxonomic references of soil microorganisms from more than 120 crops using proprietary DNA sequencing workflow and intelligent computing to decode soil biology. One of the distinctive benefits of BeCrop® is how it can translate complex data into user-friendly and actionable reports.
Data privacy and security are a top priority of Biome Makers' BeCrop® Technology, making BeCrop® a trusted and resourceful choice for partners like Syngenta and the farmers they work with.
Alberto Acedo, PhD., co-Founder and CSO of Biome Makers, says, "Collaborations like LIVINGRO™ are extremely important to advance towards real personalized agriculture. It is also vital to restore the balance of the ecology of our soils and reduce the risk of diseases and malnutrition for plants growing on imbalanced soils."
This joint effort is inspired by Syngenta and Biome Makers' shared mission to support soil health management and sustainable farming practices and ensure quality soil and food for generations to come.
About Biome Makers
Founded in California's Silicon Valley in 2015, Biome Makers is one of the foremost global AgTech leaders, setting the standard in soil health with BeCrop® technology. Built on industry leading AgTech expertise and driven by data and science, Biome Makers connect soil biology to agricultural decision-making to optimize farming practices and reverse the degradation of arable soils. With labs across the globe, customers on 4 continents, and 1M+ acres of land impacted, Biome Makers revitalizes soil functionality and agricultural sustainability worldwide.
About Syngenta
Syngenta is one of the world's leading agriculture companies, comprised of Syngenta Crop Protection and Syngenta Seeds. Our ambition is to help safely feed the world while taking care of the planet. We aim to improve the sustainability, quality and safety of agriculture with world class science and innovative crop solutions. Our technologies enable millions of farmers around the world to make better use of limited agricultural resources. Syngenta Crop Protection and Syngenta Seeds are part of Syngenta Group. In more than 100 countries we are working to transform how crops are grown. Through partnerships, collaboration and The Good Growth Plan we are committed to accelerating innovation for farmers and nature, striving for regenerative agriculture, helping people stay safe and healthy and partnering for impact.
Featured Product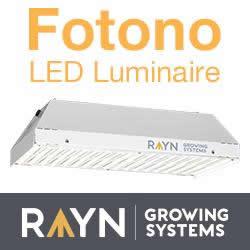 Fotono is a full spectrum LED horticultural luminaire designed to directly replace HPS lights in greenhouses. At 12 pounds, 20 inches long, and 5 inches high, Fotono's compact size makes installation simple while minimizing structural burden on greenhouses. This compact fixture packs energy-saving and yield-improving features, such as a high output, stepless dimming, advanced spectral capabilities, and more.