Celebrating the Agri startups serving the farming community by MANAGE & Samunnati
Chennai, September 14, 2022: The National Institute of Agricultural Extension Management (MANAGE), in association with Samunnati presented the MANAGE-Samunnati Agri-Startup Awards to recognize impact-driven Agri and Agri-Tech start-ups dedicated to rebuilding the agriculture development ecosystem and supporting farmers through technological innovations. In the first edition in 2021, a total of 20 Awards at the five regional (17) and national (03) were given and a total cash prize of ₹ 17.75 lakh for the startups was awarded by Samunnati.

In the 2022 edition, applications from the Agri startups across India and nominations of startups from National level Agricultural institutions and Agribusiness Incubators were invited through a completely online process.
A total of 252 applications were received from aspiring startups across India. Twenty-one eminent professionals in agriculture and allied sectors evaluated the applications objectively and independently. Major focus of the evaluation was on impact creation, farmer connect, and gravity of the problems addressed by the startup along with progress made. A total of 32 awards, comprising 3 awards at the National level, 27 at the State level and 2 women entrepreneurs were awarded and selected startups were invited to the award ceremony held on Sep 14, 2022, at MANAGE. Sushri. Shobha Karandlaje, Honourable Minister of State for Agriculture and Farmer Welfare, Government of India, graced the occasion as the Chief Guest and presented the awards to the winners recognizing their contributions to improving the agri ecosystem.
These startups will be supported by MANAGE and Samunnati beyond awards and recognition. An investment meet is planned for the startups where the startups will be given an opportunity to present their business model for funding with venture capital, angel networks and debt funding institutions. MANAGE will also be extending support through connecting the startups with other Agri startups in the ecosystem, AC & ABC Agripreneurs, and Farmers through FPOs for backward linkages and with Agri business firms for the forward linkages.
Samunnati with its initiative "Samaarambh", is nurturing over 100 agri-focused startups striving to address chronic challenges of the agri value chain for the past two years across India.
MANAGE- Samunnati Agri-Startup Awards creates a platform and provide a great opportunity for the startups in the coming years and establishes a benchmark for the startups in the agricultural ecosystem.
About MANAGE:
National Institute of Agricultural Extension Management (MANAGE) is the Indian response to challenges of agricultural extension and advisory services in a rapidly growing and diverse agriculture sector. MANAGE was established in 1987, by the Ministry of Agriculture & Farmers Welfare, Government of India as an autonomous Institute. The mission of MANAGE is to facilitate the Acquisition of Managerial and Technical skills by Extension Officers, Managers, Scientists and Administrators in all sectors of Agricultural economy to enable them to provide most effective support and services to Farming community for practicing Sustainable Agriculture. MANAGE - Centre for Innovation and Agripreneurship (MANAGE - CIA) is a section 8 registered company with a vision to promote agri-startups and enhance the agri-entrepreneurial ecosystem by strengthening incubation support services to agri-startups and agripreneurs to innovate, patent, produce and scale-up startups and agribusiness.
About Samunnati:
India's largest agri enterprise, Samunnati is an open agri-network to unlock the trillion-dollar plus potential of Indian agriculture with smallholder farmers at the center of it. Staying true to its name, Samunnati stands for collective growth & collective prosperity for the agri ecosystem. Samunnati does this by connecting players across the agriculture value chain and enabling affiliated Farmer Collectives and the larger ecosystem to be more efficient and productive through multiple technology enabled interventions and collaborative partnerships. Headquartered in Chennai, Tamil Nadu, India, Samunnati has presence in more than 100 agri value chains spread over 22 states in India and has powered over $1Bn of gross transaction value in its journey so far. Samunnati currently has access to 1500+ Farmer Collectives with a member base of over 6 million farmers and envisions impacting 1 in every 4 farming households through its network by 2027.
Featured Product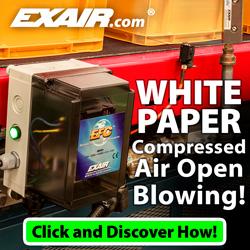 Compressed air is a limited resource that is generated in-house for the benefit of many operations within the manufacturing environment. Learn how to ensure all point of use applications are using your compressed air in the most effective and efficient way possible. Learn how much it costs to produce that compressed air and how Engineered Nozzles can help you use your air more effectively and efficiently.