Evolution Wheel Announces the Launch of the EWRS-PIVOT Series Airless Center Pivot Irrigation Tire
WINNIPEG, MB - Reinventing the pivot wheel - Evolution Wheel is excited to announce their newest domestically manufactured tire, the EWRS-PIVOT Series irrigation tire for center pivot irrigation systems.

Evolution Wheel is known for being a leader in innovative top-quality heavy equipment traction technology. Developing airless/solid tires for operators to work longer, and more productive hours. Their products are put through extensive engineering, research and development, and intense destructive testing to consistently provide the best tires for every job. During the research and development phase of the EWRS-PIVOT Series, Evolution Wheel asked farmers what their biggest concerns were with pivot tires. The main issue by far was flat tires out in the field.
Flats in the field can cause all sorts of problems. They fill with mud and water adding weight and causing downtime on the system till the tire is replaced and the damage is repaired. Not to mention the fun of hauling a tire full of mud out of the field.
Being an airless tire, the EWRS-PIVOT series is a no-flat tire. It is engineered with unique core hole geometry that compresses like traditional air-filled tires for increased traction. In addition to being easier on the driving components, compression pushes out any material that could add weight to the tire. Creating a self-cleaning tire.
The second biggest concern farmers had was traction loss. Often there are hills or other obstacles in a field that these tires must drive over. This can cause problems when a tire doesn't have enough traction and can't get up those hills.
Evolution Wheel solved this issue by engineering a true-to-spec 14.9" x 24" build for increased surface area and has a concave profile with an aggressive bi-directional tread design to maximize both floatation and traction. Like Evolution Wheel's other tires, the EWRS-PIVOT series is bolted onto the rim in segments, allowing farmers to replace a segment when damaged using only a ¾" socket right in the field. No tire shop is needed.
Evolution Wheel believes the EWRs-PIVOT series center pivot irrigation tire has both the benefits of being an airless tire and having compression similar to air-filled/pneumatic tires. The high-quality rubber used to make the EWRS-PIVOT Series also has UV protection built into it to prevent rubber deterioration often seen in other rubber tires. Increasing the longevity to last longer than a traditional premium pneumatic pivot tire.
The EWRS-PIVOT is a tire engineered for farmers to trust. No special equipment or training is needed, increased traction, and will never go flat and all of Evolution Wheels' manufacturing happens in-house. North American made with the highest quality North American materials, building the most reliable tires for the job, and tires you can trust.
Evolution Wheel has built a tire that will solve the problem irrigation farmers are facing. Easy to service, no flats, and increased traction are all helping farmers stay focused on the more important tasks that need doing.
Featured Product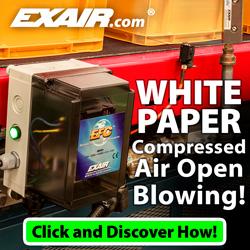 Compressed air is a limited resource that is generated in-house for the benefit of many operations within the manufacturing environment. Learn how to ensure all point of use applications are using your compressed air in the most effective and efficient way possible. Learn how much it costs to produce that compressed air and how Engineered Nozzles can help you use your air more effectively and efficiently.