Agrowing Ltd., an Israeli world leading provider of award-winning* AI-Enabling multispectral sensors, and ADTi, a technology company focused on UAS Payload systems announce the availability of a plug and play Dual-Purpose mapping camera and multispectral sensor for DJI's Matrice 300 drone**. The solution provides 10 band of 12MP each Multispectral imagery combined with Agrowing's Quad lens and 60.2MP with standard full-frame Sony lenses***. The Dual-Purpose sensor is suitable for other UAV platforms.
Agrowing and ADTi offer an integrated solution of ADTi's Surveyor Max 61S and Agrowing's AI-Enabaling Quad lens of 10 band of 12MP per band, to the world's most popular commercial UAV platform, DJI's Matrice 300.

Agrowing's worldwide patented multispectral technology enables the conversion of ADTi's Surveyor Max 61S mechanical-shutter camera body into a full-spectrum high-end multispectral sensor for aerial agricultural and site scanning surveys.
The multispectral sensor is unique in its ability to acquire leaf-level multispectral imagery of 0.45mm per pixel from 3m altitude. Such imagery enables AI identification and classification of pests, diseases and various agricultural phenomena. It also provides superior NDVI surveys, acquiring multispectral imagery of 1.5cm per pixel with exceptionally high dynamic range from 100m altitude, which is three times higher than the state of the art sensors,
Agrowing's AI-enabling sensor technology overcomes most of the issues, which are typically related to multi-camera multispectral sensors, such as synchronization, close range parallax, and chroma aberration.
Integrated with DJI's Payload SDK, the integrated solution enables using the Surveyor Max 61S, which is a repacked Sony A7RivA camera, with a clip-in IR-Cut filter, identical to the original Sony filter, as a top-of-the-line RGB mapping DSLR.
ADTI's Surveyor Max 61S camera body weighs merely 230 g. compared to the original 659 g. of the A7RivA. The multispectral payload, including Agrowing's Quad lens and ADTi 3 Axis gimbal weighs less than 800 g.
The Surveyor Max 61S is a high-resolution full-frame mirrorless, built around Sony's BSI-CMOS sensor and a mechanical shutter that outputs 60.2MP images in RGB mode.
"We are excited to bring our superior multispectral sensing solution in ADTi's lightweight package, without compromising its quality. The ability to have such a high-end solution on DJI's leading commercial UAV, creates new opportunities for many." said Ira Dvir, CEO and Co-Founder of Agrowing.
"The fact that we can use our camera as a standard 60.2MP RGB mapping camera or as a multispectral sensor according to the survey's demands, just by replacing the lens and inserting a clip-filter, is great news to customers that had to integrate two different devices with their Matrice 300." said Kris Zhao of ADTi.
The Surveyor Max 61S multispectral 10 band of 12MP per band solution including the gimbal and the lens weighs less than 800 g.
For additional information on ADTi's mapping camera, gimbal and Agrowing's multispectral lens, click here:: https://tinyurl.com/ddkkftp8
The release of the integrated solution of ADTi and Agrowing is the first in a line of products to be soon announced.
*In October 2019, Agrowing's Quad-lens sensor won the press award as one of the three innovative products of the Commercial UAV Expo Americas.
**DJI is a registered trademark of SZ DJI Technology Co., Ltd.
***Sony is a registered trademark of Sony Corporation.
About ADTi:
Founded in 2017, ADTi is also known as UnmannedRC. It is a technology company engaged in UAS Payload systems, UAV development and manufacturing, ground control station R&D, propulsion systems and flight control systems. https://unmannedrc.com/
About Agrowing:
Founded with the vision of immediate in-the-field hazards identification, Agrowing Ltd. is a world leading innovative provider of patented award-winning high- resolution, high-quality, 10 and 14 band multispectral sensing solutions. Agrowing's sensors take aerial precision agriculture sensing from the imprecise NDVI to the next higher level of actionable data by enabling leaf-level autonomous AI detection and identification of various vegetation abnormalities.
https://agrowing.com/
Featured Product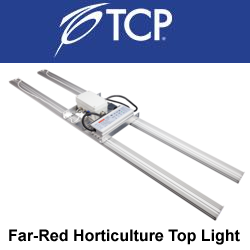 TCP's Far-Red Horticulture Top Light is available for growers that need to boost their overall crop size, yield, and photosynthetic rate without breaking the bank on energy costs or supplemental fixtures. It delivers up to 502 μmol/s of photosynthetic photon flux and high energy efficiency up to 2.29 μmol/J. It has a full spectrum that benefits vegetative and flowering growth, with a little extra kick.