Paper and packaging leader DS Smith converts 300 tons of soil additives for ag markets
America's farmers are reaping more indirect benefits from the spike in e-commerce and shipping, thanks to a mineral rich byproduct of the thermal process that powers a paper mill.

DS Smith, a leading paper, packaging and recycling company, announced today that it converted more than 300 tons of soil additives last year from paper mill waste once headed to landfills, and hundreds more tons are expected to be produced for farmers and agriculture markets in 2022.
The latest tally is triple what the company provided last year for farmers seeking natural, environmentally protective ways to enrich soil and boost production.
The average farmer will spread about 2 tons of that biochar per acre to enhance soil conditioning and remediation. Wood fibers used in the paper-making process are renewable by nature, but Atlanta-based DS Smith and partner Wakefield BioChar augment the wood ash with additional nutrients, doing more to improve crop yield.
"It's our way of lending a helping hand to farmers, a critical cog in America's supply chain. With the paper industry seeing record demand for packaging products because of the pandemic-fueled increase in e-commerce, our paper mills are producing more wood ash, also called biochar, a high-carbon and mineral rich by-product of the paper making process," said DS Smith's Giancarlo Maroto, managing director, paper, forestry and recycling.
"Converting our excess wood ash for growers is a natural way of rejuvenating their soil, because we're replacing the raw organic material that was harvested from our forests, allowing the natural processes in the soil to stay healthy and continue its positive impact by holding potentially climate changing emissions in the earth," he said.
Wood ash is a byproduct of the thermal process that powers a paper mill. When converted to mineral-rich biochar managed by Wakefield, it contains many elements that trees need for growth, such as calcium, potassium, magnesium and iron. Since most of these elements are extracted from the soil and atmosphere during a tree's growth, they are common in the environment and essential in production of crops and forests.
About 3 million tons of wood ash are produced annually in the United States. While about 80 percent of all material is applied to land in the Northeast, less than 10 percent is applied in the Southeast, with the majority being used as landfill cover.
DS Smith's partnership with Wakefield to convert papermill waste to biochar is helping to fill this regional gap, providing the soil additives to farmers to improve crop production across hundreds of acres of farmland. The partnership is also an example of one of the ways DS Smith is helping its customers achieve ESG goals by focusing on innovative methods of reuse, one of the three pillars of the circular economy, along with recycling and reduction.
DS Smith's purpose is to "Redefine Packaging for a Changing World," and as part of its recently launched "Now and Next Sustainability Strategy" and commitment to the circular economy, the company by 2030 will use packaging and recycling to replace problem plastics, reduce customer carbon and eliminate consumer packaging waste.
About DS Smith
DS Smith is a leading provider of sustainable fiber-based packaging worldwide, which is supported by recycling and papermaking operations. It plays a central role in the value chain across sectors including e-commerce, fast moving consumer goods and industrials. Through its purpose of 'Redefining Packaging for a Changing World' and its Now and Next sustainability strategy, DS Smith is committed to leading the transition to the circular economy, while delivering more circular solutions for its customers and wider society - replacing problem plastics, taking carbon out of supply chains and providing innovative recycling solutions. Its bespoke box-to-box in 14 days model, design capabilities and innovation strategy sits at the heart of this response. Headquartered in London and a member of the FTSE 100, DS Smith operates in 34 countries employing around 30,000 people and is a Strategic Partner of the Ellen MacArthur Foundation. Its history can be traced back to the box-making businesses started in the 1940s by the Smith family. North American operations are based in Atlanta, with 15 manufacturing, paper and recycling facilities, totaling more than 2,000 employees.
DS Smith operates in 34 countries employing around 30,000 people and is a Strategic Partner of the Ellen MacArthur Foundation.
DS Smith will report annually its progress across its climate targets in its Sustainability and Annual Reports.
Featured Product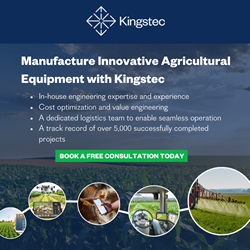 In the rapidly evolving agricultural landscape, leading AgriTech companies are increasingly leveraging the experience and expertise of strategic engineering and manufacturing partners to bring cutting-edge, cost-effective solutions to market. Kingstec is an all-in-one engineering, manufacturing, and logistics partner, with over 40 years of experience and 5,000 successfully completed projects. We can help you bring innovative, cost-optimized farm equipment, sensors, drones, components, and more to market quickly with in-house engineering and manufacturing expertise, a dedicated logistics team, and a network of world-class manufacturing and supply chain partners.