Allied Vision releases Alvium 1800 SWIR camera models with IMX990 and IMX991 SenSWIR sensors from Sony
Allied Vision's Alvium 1800 compact modular camera series is now available with Sony's innovative InGaAs SWIR sensors. The new models of the 1800 series with USB3 Vision or CSI-2 interface can be used in a wide spectral range from 400 nm to 1700 nm thanks to the SenSWIR sensor technology. Alvium 1800 U/C-030 features the IMX991 sensor with VGA resolution, whereas the Alvium 1800 U/C-130 with IMX990 offers SXGA resolution.

Alvium 1800 SWIR cameras are currently the smallest industrial-grade, uncooled SWIR core modules on the market. With their compact design, low power consumption and light weight, they are the ideal solution for compact OEM systems used in embedded and machine vision applications.
Sony SenSWIR sensor technology
The broad spectral range enables users to capture images with high quantum efficiency in the visible as well as the SWIR spectrum with a single camera, reducing overall system costs. The innovative architecture of the InGaAs digital sensors allows pixel sizes of only 5µm and high image homogeneity due to their copper-to-copper interconnects. The small pixel size is essential especially for SWIR applications with high resolution and precision requirements, such as semiconductor inspection or quality inspection of optics for laser-based measurement systems.
Alvium SWIR Core modules are available with USB3 Vision or MIPI CSI-2 interface including GenICam-compatible function control. With industrial-grade hardware and optimized drivers, they offer a plug-and-play experience when building vision applications beyond the visible spectrum, regardless of whether they are based on a PC or an embedded system.
High performance under changing operating conditions
All models of the Alvium camera series can be operated at housing temperatures from -20°C to +65°C. This makes them suitable for applications with changing operating conditions, such as outdoor imaging.
Featured Product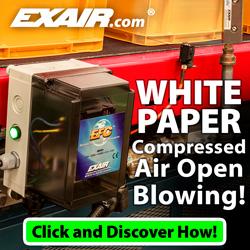 Compressed air is a limited resource that is generated in-house for the benefit of many operations within the manufacturing environment. Learn how to ensure all point of use applications are using your compressed air in the most effective and efficient way possible. Learn how much it costs to produce that compressed air and how Engineered Nozzles can help you use your air more effectively and efficiently.