DigiAg US will work alongside trusted agents and insurers to create high-tech parametric insurance products and unique risk transfer solutions for American farmers
Farmers Edge Inc. (TSX: FDGE), a global leader in digital agriculture, is pleased to announce the creation of DigiAg Risk Management (US), LLC (DigiAg), a wholly-owned subsidiary of Farmers Edge. Facing disruption head-on, DigiAg will work alongside insurers and agents to develop innovative crop protection solutions and unique coverage options to help protect American farmers from risk.

The Company will leverage localized, proprietary datasets and robust digital infrastructure to create opportunities for farmers, insurers, and agents previously unavailable in the marketplace. Its approach fuses productivity, profitability, and sustainability together to address farmers' evolving needs and create a superior insurance experience to boost return on investment across the farm.
All farm data is collected passively using Farmers Edge solutions (including high-resolution, high-frequency satellite imagery; weather conditions and events, such as hail or flood; predictive crop growth stage, disease and pest, and yield models; detailed acreage and production reports; and more) to provide seamless access to critical information required for crop insurance reporting. Digitizing the flow of insurance data using this novel and comprehensive structure delivers substantial time savings, reduces claims leakage, and ensures a high level of validity and reporting transparency for all stakeholders.
Agents can partner with DigiAg to enhance their service model, collaborate on innovative private products, generate revenue through referrals, and create a hyper-personalized customer experience to foster long-term business growth.
"We're focused on shifting the traditional insurance model to a high-tech, omnichannel experience for all stakeholders," says Wade Barnes, Farmers Edge CEO and founder. "With input costs on the rise and weather patterns continuing to change, farmers are challenged with growing more food while remaining profitable; they need simple and affordable solutions to protect their operations from risk. At the same time, insurers do not have seamless access to the high-quality datasets they need to develop, distribute, and support sustainable insurance products for farmers. That's where we come in. We help farmers collect and manage their data so they can make informed decisions, and those decisions create a domino effect of opportunities across the digital agricultural ecosystem. We're excited to work alongside the insurance industry to develop unique crop protection and risk transfer solutions to help more farm operations prosper."
To learn more about DigiAg, visit: DigiAgRiskManagement.com.
About Farmers Edge
Farmers Edge is a global leader in digital agriculture revolutionizing the industry with the broadest portfolio of proprietary technological innovations, spanning hardware, software, and services. Powered by a unique combination of connected field sensors, artificial intelligence, big data analytics, and agronomic expertise, the Company's digital platform turns data into actions and intelligent insights, delivering value to all stakeholders of the agricultural ecosystem. Farmers Edge disruptive technologies accelerate digital adoption on the farm and beyond, protecting our global resources and ensuring sustainable food production for a rapidly growing population. For more information, please visit www.farmersedge.ca and SEDAR (www.sedar.com).
Featured Product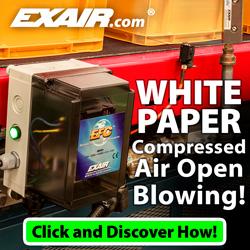 Compressed air is a limited resource that is generated in-house for the benefit of many operations within the manufacturing environment. Learn how to ensure all point of use applications are using your compressed air in the most effective and efficient way possible. Learn how much it costs to produce that compressed air and how Engineered Nozzles can help you use your air more effectively and efficiently.