With GPS navigation, Boston Dynamics' Spot robot, along with Corteva-driven innovation, has potential to revolutionize phenotyping and crop protection application
VIDEO HIGHLIGHT LEAD: https://vimeo.com/572189949/cfe90bb57d

Corteva Agriscience is working to take agricultural robotics to new heights using a Spot robot from Boston Dynamics. The company is among the first in agriculture to use this agile and cutting-edge platform to 'walk' between rows of corn, sunflowers and more. The robot has potential applications in field testing of both new seed and crop protection solutions with its ability to autonomously collect copious amounts of data, support the application of new crop protection discovery molecules, and inspect operations. Spot's many capabilities can help Corteva more fully understand complex phenotypes to support its research and development selection processes.
Corteva has named its robot Anatoly ("Annie") after Pioneer founder Henry A. Wallace's beloved Anatolian Shepherd dogs. Annie works continuously in environments with uneven surfaces and high daily temperatures, protecting Corteva Agriscience employees from potentially dangerous situations. This lightweight and portable robot is another example of how Corteva is boldly pushing the frontiers of science to increase safety and sustainability.
"Annie's proximal sensing capabilities and ability to execute specific actions at a certain plot or by individual plant will help us challenge assumptions about the way things are done," said Geoff Graham, leader of seed product development for Corteva Agriscience. "The ability to leverage an autonomous robot to navigate row crop fields, while carrying and pulling instruments to collect data or apply chemicals more efficiently, has tremendous potential as we push the boundaries of what we can deliver to farmers."
Spot robots automate sensing and inspection, capture limitless data, and explore without boundaries, making operations safer, more efficient and predictable. Corteva is also collaborating with Trimble, a leading provider of advanced location-based solutions that maximize productivity and enhance profitability, for the initial proof-of-concept and to integrate precise GPS guidance technologies with the Spot robot platform. The jointly developed solution between the three companies combines the unique mobility of the Spot robot with Trimble's autonomous navigation capabilities and Corteva's innovative approach to helping farmers overcome agriculture's most pressing challenges.
About Corteva Agriscience
Corteva Agriscience is a publicly traded, global pure-play agriculture company that provides farmers around the world with the most complete portfolio in the industry - including a balanced and diverse mix of seed, crop protection and digital solutions focused on maximizing productivity to enhance yield and profitability. With some of the most recognized brands in agriculture and an industry-leading product and technology pipeline well positioned to drive growth, the company is committed to working with stakeholders throughout the food system as it fulfills its promise to enrich the lives of those who produce and those who consume, ensuring progress for generations to come. Corteva Agriscience became an independent public company on June 1, 2019 and was previously the Agriculture Division of DowDuPont. More information can be found at http://www.corteva.com.
Follow Corteva Agriscience on Facebook, Instagram, LinkedIn, Twitter and YouTube.
# # #
TM ® SM Trademarks and service marks of Corteva Agriscience and its affiliated companies.
Featured Product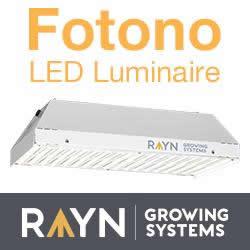 Fotono is a full spectrum LED horticultural luminaire designed to directly replace HPS lights in greenhouses. At 12 pounds, 20 inches long, and 5 inches high, Fotono's compact size makes installation simple while minimizing structural burden on greenhouses. This compact fixture packs energy-saving and yield-improving features, such as a high output, stepless dimming, advanced spectral capabilities, and more.