The expanded agreement further solidifies Univar Solutions' ability to provide a broad range of industry-leading products, solutions and expertise for its agrochemical industry customers.
Univar Solutions Inc. (NYSE: UNVR) ("Univar Solutions" or "the Company"), a global chemical and ingredient distributor and provider of value-added services, today announced an agreement with Dow to distribute its line of silicone based defoamers DOWSIL™ and XIAMETER™ for agrochemical applications in Mexico. The expanded agreement further solidifies Univar Solutions' ability to provide a broad range of industry-leading products, solutions and expertise for its agrochemical industry customers.

"At Univar Solutions, we pride ourselves on building long-lasting, productive relationships with premier suppliers. Partnering with a best-in-class organization like Dow demonstrates how we continually and strategically collaborate to bring innovation to the Mexican agricultural market, ultimately supporting Mexican growers," said Jorge Buckup, president, Latin America, for Univar Solutions. "With this agreement, we are well-positioned to provide customers new solutions and efficiencies to enhance their crop businesses."
For the agriculture and crop protection industries, excessive foaming can cause processing vessels to overflow, interfering with packaging and damaging materials or equipment and potentially impacting capacity, production efficiency and increasing time. As a result, higher maintenance costs and larger, more expensive equipment can sometimes be necessary to manage the excess foam. DOWSIL™ and XIAMETER™ Silicone Foam Control Agents from Dow have low surface tension for effective foam control in a variety of foaming media and act as both antifoams and defoamers, providing effective and efficient solutions for agrochemical customers experiencing these challenges.
Patricia Augusto, Latin America marketing manager at Dow, added, "We are pleased to expand our successful partnership with Univar Solutions in Mexico. As we identify agrochemical customers who may benefit from advanced antifoam products, together we can offer our unique technologies and solutions and help deliver greater value through enhanced efficiency and product performance."
Antifoams and defoamers for crop protection are available from Univar Solutions as fluids, compounds, emulsions, and powders and can be used in both aqueous and non-aqueous agrochemical systems. Learn more about Univar Solutions' comprehensive silicone portfolio, made possible by its relationship with Dow.
About Univar Solutions
Univar Solutions (NYSE: UNVR) is a leading global specialty chemical and ingredient distributor representing a premier portfolio from the world's leading producers. With the industry's largest private transportation fleet and North American sales force, unparalleled logistics know-how, deep market and regulatory knowledge, world-class formulation and recipe development, and leading digital tools, the Company is well-positioned to offer tailored solutions and value-added services to a wide range of markets, industries, and applications. Univar Solutions is committed to helping customers and suppliers innovate and grow together. Learn more at univarsolutions.com.
About Dow
Dow (NYSE: DOW) combines global breadth, asset integration and scale, focused innovation and leading business positions to achieve profitable growth. The Company's ambition is to become the most innovative, customer centric, inclusive and sustainable materials science company, with a purpose to deliver a sustainable future for the world through our materials science expertise and collaboration with our partners. Dow's portfolio of plastics, industrial intermediates, coatings and silicones businesses delivers a broad range of differentiated science-based products and solutions for its customers in high-growth market segments, such as packaging, infrastructure, mobility and consumer care. Dow operates 106 manufacturing sites in 31 countries and employs approximately 35,700 people. Dow delivered sales of approximately $39 billion in 2020. References to Dow or the Company mean Dow Inc. and its subsidiaries. For more information, please visit www.dow.com or follow @DowNewsroom on Twitter.
Featured Product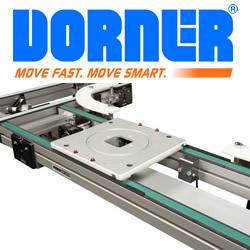 Dorner's 2200 Series Precision Move Pallet Systems are ideal for assembly automation. With features such as an innovative timing belt conveyor design and industry best pallet transfers, they get your product to the exact location, at the exact time and in the exact position it needs to be. They are now available with new options such as heavy load corner modules with 150 lb. capacity and 180 degree tight transfer corners for compact loops.