According to the latest market report published by Credence Research, Inc."the global soil moisture sensors market was US$ 172.4 Mn in 2018 and expected to progress with CAGR of 14.8% from 2019 to 2027, reaching US$ 597.1 Mn in 2027."
Market Insights

"Scarcity of water and push from government, driving the market growth"
The scope of soil moisture sensor is increasing day by day, the use of soil moisture sensors in residential areas is aiding the soil moisture sensor market. This help residential society in maintain green lawns and also helps builders to get idea of water content in the soil which helps him lay the foundation for construction accordingly. Soil moisture market is now backed by sports segment, which has resulted in increased demand of soil moisture sensors to maintain the grounds. For instance soil moisture sensors are used to maintain golf turfs the rise in such practice will be addition to the market of soil moisture sensors.
Weather Forecasters make use of soil moisture sensors which is another driving factor for the soil moisture sensor market. As soil moisture sensors are helpful in providing reading that is helpful in weather forecasting. Research Studies is among another factor driving the soil moisture market. Rising awareness among government agencies will help in expansion and strengthening of the soil moisture market. Increase in number of agricultural research projects. The restraint of the soil moisture sensor market is the lack of awareness among the farmers. As use of traditional farming practices is hindering the exponential growth of the soil moisture sensor market.
The overall soil moisture sensors market is competitive in nature and it is growing at moderate rate. The market players are adopting strategies such as launching innovative & new products, agreements, partnership & collaboration, and investment in R&D to stay competitive in the market.
Industrial Developments
• In June 2019, Kerlink (ALKLK - FR0013156007), a specialist and global leader in solutions dedicated to the Internet of Things (IoT), and Sensoterra, a leader in wireless soil-moisture-sensor solutions, today announced a partnership to empower farmers to make data-driven, land-management decisions and reduce their water consumption by up to 30 percent.
Key Market Movements:
• Based on sensor type, soil water potential segment captured the largest share in 2018. However, volumetric sensors expected show good growth during the forecasted period pertaining to its accurate and instant data delivery.
• Based on connectivity, wired segment captured the major share of the market in 2018. However, wireless sensors expected to show strong growth from 2019 to 2027.
• Based on application, agriculture segment captured the major share of the global market in 2018. Subsequently, the same segment expected to keep its leading position from 2019 to 2027.
• Based on region, North America was the largest regional soil moisture sensors market in 2018. On the other hand, Asia Pacific region expected to drive the market growth with the highest CAGR of 15.6% from 2019 to 2027.
List of Companies Covered:
• Decagon Devices, Inc.
• Acclima, Inc.
• The Toro Company
• Stevens Water Monitoring System, Inc.
• Delta-T Devices Ltd.
• AquaCheck Pvt. Ltd.
• Irrometer Company, Inc.
• Sentek Pvt. Ltd.
• Campbell Scientific Inc.
• METER Group, Inc.
• IMKO Micromodultechnik GmbH
• Spectrum Technologies, Inc.
• Others
Featured Product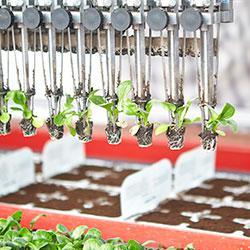 Monotone, repetitive movements of the hand can lead to chronic strain syndromes. Electric professional tools provide relief, such as "Pony" pruning shears. It is one of the most powerful products on the market with over 70 cuts per minute and a weight of only 770g. This is only possible with a drive that combines the highest efficiency with a compact lightweight design. Manufacturers of professional tools from around the world therefore rely on drive solutions from FAULHABER.