GrowGen's First Super Garden Center; 40,000 Square Feet of Retail and Distribution Space
GrowGeneration Corp. (NASDAQ: GRWG), ("GrowGen" or the "Company") the largest chain of specialty retail hydroponic and organic garden centers, with currently 27 locations, is pleased to announce that the company has officially opened its 2nd Tulsa operation. The ribbon cutting, in order to signify that the store was officially opened for business, took place Saturday, March 7th at 10 a.m. at 5566 S Garnett Rd, Tulsa OK. 74146 This 40,000 square foot retail location will serve as our central division's hub for our rapidly growing Commercial, Retail and Ecommerce business, as well as, the model store for our new Ecommerce pick, pack and ship fulfilment center program that will be replicated 4 to 6 more times throughout the United States.

CEO Comments:
Darren Lampert, Co-Founder and CEO, said, "The Oklahoma market's strong medical patient count and the favorable cultivation laws have exceeded our original projections. With the opening of the largest hydroponic garden center in the US, GrowGen is defining the next generation of garden centers. Our Super Garden Center, in the heartland of Tulsa, OK., delivers turnkey solutions to grow hydroponically, build a vertical indoor garden, purchase all your organic nutrients and soils, hemp farming supplies and farm to table home and commercial products. We have built a destination location for all commercial growers and home growers, in one of our country's most active cultivation markets in the country. The growers will be able to see live indoor vertical gardens operate, interact with our Grow Pro's and learn from industry experts. GrowGen plans to build several of these Super Garden Centers, across the US to serve the growing numbers of commercial and home growers."
About GrowGeneration Corp.:
GrowGen owns and operates specialty retail hydroponic and organic gardening stores. Currently, GrowGen has 27 stores, which include 5 locations in Colorado, 5 locations in California, 2 locations in Nevada, 1 location in Washington, 4 locations in Michigan, 1 location in Rhode Island, 4 locations in Oklahoma,1 location in Oregon, 3 locations in Maine and 1 location in Florida. GrowGen also operates an online superstore for cultivators, located at https://growgen.pro/. GrowGen carries and sells thousands of products, including organic nutrients and soils, advanced lighting technology and state of the art hydroponic equipment to be used indoors and outdoors by commercial and home growers. Our mission is to own and operate GrowGeneration branded stores in all the major states in the U.S. and Canada. Management estimates that roughly 1,000 hydroponic stores are in operation in the U.S. By 2020 the market is estimated to reach over $23 billion with a compound annual growth.
Featured Product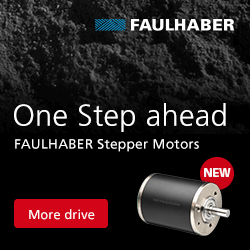 The FAULHABER stepper motor AM3248 raises the bar in terms of performance and dimensions. Offering up to 10,000 rpm, it achieves five times the speed of comparable stepper motors. Combined with a gearhead reduction of 100:1, it supplies a torque of 5 Nm. With a diameter of just 32 mm, it is suited for a wide range of applications in areas such as aerospace, laboratory automation, the semiconductor industry, robotics and 3D printing. Learn more!