The new 1000W LED top light means that growers can now easily replace their 1000W SONT lamps and get over 50% more light, using the same cables and the same power.
London, ENGLAND - 29 January 2020: Hyperion Grow Lights is introducing the latest high power top light in the Hyperion LED range at Fruit Logistic in Berlin next week. The new 1000W LED top light means that growers can now easily replace their 1000W SONT lamps and get over 50% more light, using the same cables and the same power.

Hyperion 3k LED Top Light
With a choice of light output options of up to 3000 µmol/s and 3.5 umol/J efficiency, the new Hyperion 3k is one of the of the most powerful and flexible LED solutions for growers, whether they are looking to add more light or use less power. With an unrivalled 3000 umol/s output, less Hyperion 3k fixtures are required for any greenhouse installation, delivering economies of scale and lower costs per m². Existing SONT cabling can be re-used, making installation both easy and cost effective.
The new 1000W fixture uses the latest Hyperion fan cooling technology, allowing it to be very compact - and with fewer fixtures required, the total shading from any installation is very low. The Hyperion 3k can be mounted below or alongside the trellis to maximise the high above the crop and fit with any screen installation.
Trellis mounting options
Hyperion Head Agronomist, Maarten Klein commented "This very compact fixture has a minimal shading effect, so the available sunlight can be used optimally. We see a growing demand for higher output as non-radiant LED lighting opens the doorway for increased light intensities and proven yield increase. Throughout the winter high productions can be achieved, with lower evaporation rates. This leads to higher CO2 levels in the greenhouse throughout the day and therefore better use of the artificial light source. Since we are able to fine tune the spectrum to grower's requirements, we can tailormade lighting projects.
The Hyperion 3k is the latest in the award-winning Hyperion top light range, developed with Plessey technology and Osram LEDs. In 2017, the first Hyperion 1000 was introduced, followed by the Hyperion 1750 (2018) and Hyperion 1850 (2019) as the first compact LED fixtures designed as trellis mounted alternatives to 600W and 1000W SONT lamps. Already there are Hyperion reference sites in 6 countries across Europe for both 100% LED and hybrid installations.
Germany's first 100% LED installation at Gemüsebau Steiner
"In recent years there have been rapid developments in LED grow light design, efficiency and cost effectiveness, but the light output of the 1000W SONT remained the standard. Now at 3000 umol/s, the Hyperion 3k surpasses the output of traditional 1000W HPS delivering over 50% more light for the same power. Hyperion gives growers the opportunity to optimise the light intensity in their greenhouse for the lowest cost per m², whether they are building new, looking to replace older 1000W HPS or looking to increase both light and reduce power with a Hybrid installation," commented Director of Hyperion Grow Lighting, Jonathan Barton.
Ends
About Hyperion Grow Lights
Combining its expertise in plant science and Plessey LED lighting technology, design and engineering skills, Hyperion has developed award winning innovations in LED horticultural lighting. Hyperion grow lights have been specifically designed to deliver greater returns for commercial growers. With high power Hyperion LEDs you need less fixtures for any given lighting installation, lowering the cost per square metre for any lighting requirement. Hyperion grow lights are designed for 100% LED installations but can also work in addition to, alongside, or can replace high pressure sodium (SON-T) grow lights, reusing existing cabling and connectors to minimise installation costs
For further information, please visit www.hyperiongrowlights.com.
For Hyperion sales information email: info@hyperiongrowlights.com
Featured Product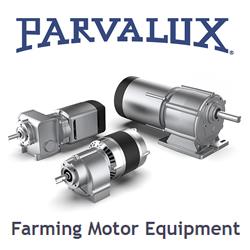 British-made farming motors at Parvalux are available off-the-shelf, customizable or as a fully customized 'from scratch' solution, enabling you to tailor a geared motor to your precise requirements. Whether you require a specific shaft length or material, dynamic braking or another one of our customization options, we'll help you make sure your customers' farms run like clockwork.