Global greenhouse horticulture market growth driven by increasing food demand, need for healthier and efficient farming techniques, and changing climatic conditions globally
Horticulture originated from the Latin word hortus, which means garden and agriculture. It is the art or practice of cultivation in a garden along with soil management, landscape and its restoration, plant conservation, designing of garden, maintenance, construction, and aboriculture. Greenhouse is a covered and protective house built with plastic, glass, or other transparent materials for the safety of plants from undesired climatic conditions, plant diseases, and surrounding environments, which impacts growth of plants.

As a result of this projected increase in food demand, rigorous and more productive farming practices are required to be used and adopted. However, most agricultural systems may be adversely affected by certain environmental and surrounding conditions. For example, unpredictable natural calamities and unforeseen changes in weather conditions will have a negative impact on agricultural produce. As a result, popularity of greenhouse horticulture has been growing in the recent past, and is expected to continue in future. Preference and demand for plastic greenhouse covers is relatively high in the market, but damage caused by exposure to soluble salts in agriculture water and lack of storage facilities to protect the produce post-harvest are factors impacting adoption of these types of greenhouse covers.
The global greenhouse horticulture market report has been segmented on the basis of material type, application, and region. On the basis of material type, the target market is segmented into plastic, glass, and others, which includes transparent material such as rigid plastic acrylic, polyvinylchloride, and polycarbonate. On the basis of application, the target market is segmented into vegetables, ornamental, fruits, and others.
Segmentation of the target market on the basis of region includes China, US, Europe, Japan, and Rest of the World. The region leading in this market is Europe, followed by North America, Asia Pacific, and Middle East & Africa. In the coming years, Europe, North America, Asia Pacific, and Middle East & Africa will continue to account for significant revenue share in the global market. Countries such as China and other developing countries in Asia Pacific as well as Denmark, Belgium, and Germany in Europe have been investing significantly in the agriculture sector, and the trend is expected to continue in future.
Some major players in the global greenhouse horticulture market include RICHEL GROUP, Hoogendoorn Growth Management BV, Dalsem Horticulture Projects B.V., HortiMaX B.V., Harnois Greenhouse, PRIVA B.V., Ceres Greenhouse Solutions, Certhon, Van der Hoeven, ORITECH, Rough brothers, Inc., Trinog-xs (Xiamen) Greenhouse Tech Co., Ltd., NETAFIM Ltd., Top Greenhouses Ltd.
Featured Product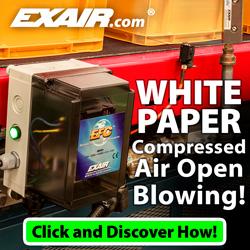 Compressed air is a limited resource that is generated in-house for the benefit of many operations within the manufacturing environment. Learn how to ensure all point of use applications are using your compressed air in the most effective and efficient way possible. Learn how much it costs to produce that compressed air and how Engineered Nozzles can help you use your air more effectively and efficiently.