Leading Investors Back Dynamic AI Technology That Improves Yield Predictions, Maximizes Profits
MONTREAL--(BUSINESS WIRE)--Motorleaf - an artificial intelligence startup focused on bringing actionable, data-driven insights to greenhouse and indoor operators -announced today it has raised $2.85 million USD to further develop its real-time, agronomic solutions for the fast-growing controlled-environment agriculture sector.

The investment, closed in two rounds with the final $2 million USD committed this May, is led by top ag- and food-tech acceleration fund Radicle Growth and includes support from Desjardins Capital, Real Ventures, Fluxunit (Osram Ventures), BDC Capital and 500 Startups Canada.
"Motorleaf is changing the way we grow in greenhouses and indoors with their application of enabling AI anywhere at any time," says Radicle Growth CEO Kirk Haney. "Their technology has been proven in vegetable production environments and we are investing this capital to help the company scale."
Motorleafs hardware and software hones-in on the human and environmental aspects of greenhouse production, helping to predict accurate harvest amounts in a tight-margin industry. By providing a digital agronomist, Motorleafs yield prediction tools help greenhouse operators meet contract obligations, better plan weekly operations and foresee production capacities in real time.
In initial trials with California greenhouse SunSelect, Motorleafs technology led to a 50-percent reduction in yield prediction error in tomatoes. These results were enough for SunSelect to adopt Motorleafs algorithms after a short trial.
"Better yield prediction is only the beginning for Motorleafs value to this sector," says Motorleaf CEO Alastair Monk. "Were ultimately producing dynamic grower protocols, which help manage everything from light and nutrients to predicting crop diseases before they happen, and optimized growing conditions that increase ROI - all based on real-time data."
The next phase for Montreal-based Motorleaf will take a broad look at greenhouse conditions and apply the technology to multiple crops. The data insights will not be a one-time, static prediction, but allow growers to adjust growing conditions and compensate for the unexpected.
"Motorleafs ability to apply automation by adding convenient hardware to preexisting greenhouse control systems makes them not only practical, but ready for todays greenhouse industry," says Haney. "The next round of solutions coming out of testing only highlight more of the potential insights this technology brings to the table."
Motorleafs AI program stands to bring applicable, cost-cutting solutions to greenhouses surrounding labor, energy, over/under production and nutrient management. There are 52.3 billion square feet of greenhouses and indoor farms that can benefit from Motorleafs technology today.
Haney and Lars Roessler from Fluxunit will join Motorleafs Board of Directors, helping the company make connections with key industry players, expanding its global reach and furthering application of the machine learning algorithms in diverse indoor agriculture facilities.
Featured Product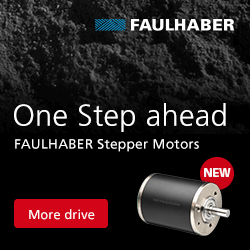 The FAULHABER stepper motor AM3248 raises the bar in terms of performance and dimensions. Offering up to 10,000 rpm, it achieves five times the speed of comparable stepper motors. Combined with a gearhead reduction of 100:1, it supplies a torque of 5 Nm. With a diameter of just 32 mm, it is suited for a wide range of applications in areas such as aerospace, laboratory automation, the semiconductor industry, robotics and 3D printing. Learn more!