The new product, Multi Spectrum Grow Light, is both energy and cost efficient, dramatically improving yields without excessive energy and infrastructure costs.
SACRAMENTO, Calif., May 9, 2018 /PRNewswire/ -- Smart Cannabis Corp. (OTC: SCNA) has unveiled a new light product to the market, specifically designed to accelerate cultivation of cannabis in greenhouses and reduce energy consumption to one-fifth of standard and DE HPS lighting fixtures.

The new product, Multi Spectrum Grow Light, is both energy and cost efficient, dramatically improving yields without excessive energy and infrastructure costs. Multi Spectrum Grow Light is being sold under the Smart Cannabis Corp. subsidiary Next Generation Farming and is an innovation of Smart Cannabis Corp. co-founder John Taylor. "Need truly drives product creation for us whether it's in a variety of greenhouses or tools that improve production outcomes within the greenhouses, like our SMARTAPP which automates the cultivation process and allows for remote management. This lighting system is absolutely needed for efficiency. It's critical to us that our clients experience high quality, high tech products that improve both yields and their bottom line when they work with us. We are confident we're helping them achieve success even more by making Multi Spectrum Grow Light available to them immediately," says Taylor.
More information on the Multi Spectrum Grow Light, including a data sheet and photos of it in use, can be found at: https://smartcannabis.com/greenhouse-models/multi-spectrum-grow-light/
Smart Cannabis (OTC PINK: SCNA) is a public equity corporation advancing the agriculture and cannabis industries and growing through acquisition, strategic alliances, and proprietary intellectual property. The company's wholly owned subsidiary, Next Generation Farming Inc., provides turnkey, automated, commercial greenhouses systems that efficiently improve yields and decrease water consumption for cultivators of organic food and cannabis crops. The company websites are http://smartcannabis.com and http://nextgen.farm.
Disclaimer: The Company relies upon the Safe Harbor Laws of 1933, 1934 and 1995 for all public news releases. The company may make forward-looking public statements concerning its expected future operations, performance and other developments. Such forward-looking statements are estimates that reflect the company's best judgment based upon current information. All investments involve risks and uncertainties, and there can be no assurance that other factors will not affect the accuracy of such forward-looking statements. It is impossible to identify all such factors. Factors which could cause actual results to differ materially from those estimated by the company include, but are not limited to, government regulation; managing and maintaining growth; the effect of adverse publicity; litigation; competition; and other factors which may be identified from time to time in the company's public announcements.
Featured Product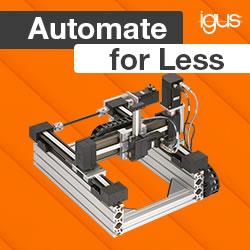 drylin® gantry robots consist of two base X-axes, a Y-axis, and an optional Z-axis. Their self-lubricating plastic liners have been engineered to slide instead of roll and to run smoother and quieter than recirculating ball bearings. drylin® gantries are also lightweight, corrosion-resistant, maintenance-free, and cost up to 40% less than traditional gantry robots. Visit this webpage to learn more.