illumiPure Plans to Establish a Unique LED Broadband Spectrum to Enhance Cannabis Crop Productivity While Reducing Operational Costs
HOUSTON, April 20, 2018 /PRNewswire/ -- illumiPure™ Corp. and WeedMD have entered into a Joint Proof of Concept (PoC) Agreement to assess the tools and techniques of illumiPure's high-quality LED horticulture lighting system. The intent of the PoC is to document the improvements in quality of WeedMD's cannabis product while reducing electricity usage and maintenance costs. The project will record data points and crop characteristics developed throughout the grow cycle while utilizing the illumiPure LED broadband spectrum system.

illumiPure's proprietary "illumiGrow" technology creates individual light spectra specifically tuned for use with individual crops and plant needs. This unique lighting system provides a wide spectrum technology that assists in photosynthesis optimization by providing doses of specific wavelengths necessary for plant health and sustainability. Ideal applications include vertical farming, indoor commercial growing and indoor personal growing.
The scope of the PoC agreement between illumiPure and WeedMD consists of a single cannabis strain to strain comparison. The comparison will identify the advantages to a plant growing under illumiPure's optimum spectrum versus the existing traditional HPS lighting. The PoC will commence on April 20th with the installation of illumiPure lighting fixtures at WeedMD's facility in Aylmer, Ontario and run for a total of four months. At the conclusion, the THC content of the plants grown under the illumiPure system, as well as energy consumption, will be compared to the levels of THC in plants grown under WeedMDs current lighting fixtures and the energy consumption of existing conditions.
The expected outcomes of the PoC is the demonstration of illumiPure's ability to 1) reduce overall energy consumption and operational costs, and 2) create a healthier and more natural spectrum that allows for an increase in overall plant productivity (in this case, THC content). If validation of the technology is secured, it is expected that WeedMD will purchase illumiPure's illumiGrow technology for all future lighting and spectrum requirements.
About illumiPure Corp.
illumiPure™ Corp. designs, manufactures and markets technologically advanced Bactericidal and Fungicidal White Light LED Lighting Fixtures that delivers 24/7 disinfecting protection and high efficiency horticultural LED grow light technology. Proudly Made In The U.S.A. For more information visit www.illumiPure.com.
About WeedMD Inc.:
WeedMD Inc. is the publicly-traded parent company of WeedMD Rx Inc., a federally-licensed producer and distributor of medical cannabis under the Access to Cannabis for Medical Purposes Regulations (ACMPR). The Company operates a 26,000 sq. ft. indoor facility in Aylmer, Ontario, and is awaiting its second-site cultivation license for its greenhouse facility located in Strathroy, Ontario, representing 610,000 sq. ft. or 14 acres under glass. WeedMD has entered into supply agreements in addition to strategic relationships with established cannabis brands. The Company is focused on providing medical cannabis to the long-term care, assisted living and seniors' markets in Canada through its specialized and comprehensive platform. It is dedicated to educating healthcare practitioners and furthering public understanding of the role that medical cannabis plays - including as it pertains to regulatory requirements, indications and potential side effects.
Featured Product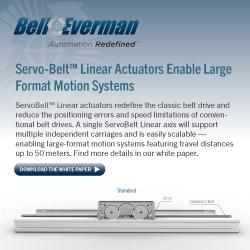 Manufacturing and packaging operations that still depend on manual material or parts handling operations can reap immediate benefits from a type of automation based on long-travel Cartesian robots with custom end-of-arm tooling (EOAT) and advanced sensing capabilities. These robots can support a variety of machines - performing otherwise manual tasks such as machine tending or transferring in-process parts - making long-travel Cartesian transfer robots a major upgrade to processes and operations. Download the White Paper from Bell-Everman