New platform provides farmers guidance and clarity to manage farm food safety regulations
Columbia-based software development firm NextLOGiK launched CompWALK.farm, food safety management software for the agriculture industry.

NextLOGiK developed CompWALK.farm to help farms manage food safety regulations including the Food Safety Modernization Act (FSMA) Produce Safety Rule and the U.S. Department of Agricultures Good Agricultural Practices (GAP). Growers can conduct farm food safety mock inspections, download food safety templates, track corrective actions and store documents in a single location.
The farm food safety software is web-based with a mobile app coming soon and is priced at $399 for a one-year subscription.
The FSMA Produce Safety Rule was published in 2015, establishing food safety requirements for farms producing fruits and vegetables. In addition to FSMA regulations, many retailers and packagers require more stringent certifications for food safety, including USDA GAP and Global Food Safety Initiative-recognized programs. CompWALK.farm simplifies the language of these inspections and breaks them up into manageable sections.
FSMA, GAP and other food safety certifications require significant paperwork from employee training logs to soil amendment records to water processing treatment procedures. CompWALK.farm provides templates, resources and a searchable file repository to save time maintaining these documents.
"CompWALK.farm is a great tool to help us become compliant under FSMA without being overwhelmed," said Leigh Faegan, market manager for Larriland Farm, a pick-your-own produce farm in Maryland. "The platform is very helpful, especially with the log and template suggestions. I just wanted someone to tell me what to do, and CompWALK.farm did that."
CompWALK.farm is the agricultural component of CompWALK, NextLOGiKs compliance and accreditation management platform developed with over 20 years of experience in health care compliance. By tailoring the existing compliance management platform, NextLOGiK was able to deliver a cost-effective farm food safety management solution for farms who cannot afford enterprise software systems or outside consultants.
In December 2016, NextLOGiK became the first company enrolled in the Howard County Agriculture Departments Ag Tech Center in Maryland. The partnership ensured the platform was built with accurate and reliable information regarding food safety for farms.
"Hearing the frustrations of our local farms sparked the idea of CompWALK.farm," said Kirk Couser, CEO of NextLOGiK. "With our background in compliance management, it made sense to utilize our platform to create a tool that will benefit our community and farms across the U.S."
About NextLOGiK
With an extensive background in health care and compliance, NextLOGiK developed CompWALK, a cloud-based, online and mobile solution that automates compliance and risk management operations. CompWALK enables health care, accreditation, food safety and similar compliance-laden industries to operate more efficiently through the use of online, real-time inspections, documentation management and workflow automation. NextLOGiK also developed a farm food safety application, CompWALK.farm, to assist growers with managing the Food Safety Modernization Act (FSMA) and additional food safety regulations. (http://www.nextlogik.com)
Featured Product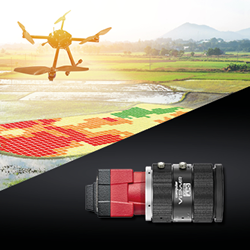 Allied Vision's compact and light weight Alvium SWIR (short wave infrared) cameras are the ideal choice to build cost-effective OEM systems used in embedded and machine vision applications. The cameras support a spectral range from 400 nm to 1700 nm at high quantum efficiencies. This allows to capture images in both the visible and SWIR spectra with a single camera and enables users to reduce overall system costs! Equipped with Sony's IMX990 and IMX991 SenSWIR InGaAs sensors, Alvium SWIR cameras deliver high image quality and frame rates. This makes them well suited for drones or handheld devices used in various industries such as, agriculture, mining, solar cell inspection or medical.