Company Moves to New Corporate Headquarters Due to Accelerated Growth in 2017
BOSTON, Oct. 31, 2017 /PRNewswire/ -- Freight Farms, the leading manufacturer of commercial-grade hydroponic farms built inside of shipping containers, today reported company growth to accommodate the increasing demand from new business sectors, and international markets. As the company continues to thrive, Freight Farms also announced a corporate expansion to the South End Exchange neighborhood of Boston.

With the new office, comes a new company direction. Small business farmers have historically shown the most interest in the company's flagship product, the Leafy Green Machine™ (LGM™), to start or expand their business. However, over the past several months, Freight Farms has experienced widespread interest from larger entities. Restaurants, schools, universities, corporations, municipalities and non-profits are all buying LGMs™. In the past year, sixteen businesses and campuses launched Leafy Green Machines™. Additionally, Freight Farms has been working with major institutional food service providers Compass Group and Sodexo. By focusing on this channel, Freight Farms hopes to bring the LGM™ to many more communities, spreading sustainable farming method to a broader audience.
"Local food is in high demand, and schools and businesses are prioritizing health, wellness and engagement now more than ever. The LGM™ fits seamlessly in with their goals, and we are re-focusing to meet the demands of a new market -- it's a very dynamic time to be in ag tech," said Brad McNamara, CEO and co-founder, Freight Farms.
"An important piece for Sodexo is our 'Better Tomorrow Plan,' which specifically focuses on individuals, our communities and our environment. Freight Farms has given us a great opportunity to have that engagement with students on a higher level, especially with sustainability," said Heather Vaillette, district manager of campus services and independent schools, Sodexo.
As Freight Farms continues to grow, it will not turn its back on the small business farmers who gave it its start. This channel is still growing as traditional farmers adopt Freight Farm's technology. With a LGM™, farmers can extend their business year-round and provide crop protection in the face of increasingly extreme weather patterns.
"There are significant environmental benefits to farming in a hydroponic system, which allows farms to use 90 percent less water than traditional methods," said Jon Freidman, President and co-founder, Freight Farms. "The contained environment also eliminates the need for herbicides or pesticides, and the ability to farm anywhere reduces the impact of food transportation. As our user base expands to larger organizations, we look forward to seeing sustainable produce spread to new markets."
Notable moments 2016 - 2017:
April 2016 - Partnered with Clemson University and NASA to explore Self-Sustaining Crop Production Units (SSCPU) as a new way of growing food in extreme climates and outer space.
September 2016 - Kimbal Musk purchased 10 Leafy Green Machines™ to launch Square Roots - an urban farming accelerator - in Brooklyn, NY.
November 2016 - Freight Farms partnered with a major agricultural supplier located in the Netherlands to service Europe. To date, six Leafy Green Machines™ have been sold.
January 2017 - Introduced The 2017 Leafy Green Machine™ which contains all the components needed for commercial food production. It is equipped with the most advanced growing technology and engineered for easy operation, allowing users of all backgrounds to immediately start growing fresh food produce year-round.
March 2017 - Freight Farms partnered with Federal Realty Investment Trust. Leafy Green Machines™ will occupy unused parking areas to bring urban farming to shopping centers throughout the U.S.
November 2017 - The first federal farmer within the program, Nate Brown, launched his Leafy Green Machine™.
April 2017 - Freight Farms placed three farms in Dubai, marking an expansion into the Middle Eastern market. This mirrors similar expansion made in April 2016, when Freight Farms placed containers in the Caribbean.
2017 Leafy Green Machine Stats:
The 40-foot container can produce 2-4 tons of produce a year.
The LGM™ comes equipped with 256 vertical growing towers to maximize space and production.
The LGM™ has 3,600 seedling sites and 4,300 growing sites.
The LGM™ are currently operating in climates between -40 degrees and 120 degrees Fahrenheit.
Freight Farmers can harvest 365 days a year.
The LGM™ automates temperature, water, nutrient levels, pH, CO2, and humidity to maximize growth.
Users can schedule, track, and control all farming components remotely using the farmhand® platform.
About Freight Farms
Founded in 2010 in Boston, Freight Farms has established itself a leader in the agriculture technology industry. The company was the first to bring farming into a shipping container to create their flagship product: The Leafy Green Machine™. The "LGM™" is a complete vertical hydroponic growing facility built inside a repurposed container. It enables Freight Farmers to grow fresh food year-round, regardless of prior experience or environment. The LGM™ is outfitted with environmental controls and indoor growing technology, which can be monitored and controlled using Freight Farm's complimentary technology platform- farmhand┬«. To date, there are over 150 farms in operation in the U.S., Canada, Europe, Dubai and the Caribbean. For more information about Freight Farms, visit www.freightfarms.com.
Featured Product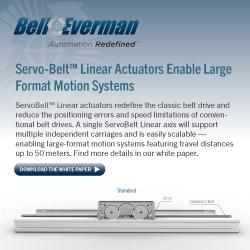 Manufacturing and packaging operations that still depend on manual material or parts handling operations can reap immediate benefits from a type of automation based on long-travel Cartesian robots with custom end-of-arm tooling (EOAT) and advanced sensing capabilities. These robots can support a variety of machines - performing otherwise manual tasks such as machine tending or transferring in-process parts - making long-travel Cartesian transfer robots a major upgrade to processes and operations. Download the White Paper from Bell-Everman