New antenna range includes L1/L2 and L1/L5 to enhance performance for applications that require highly accurate location capabilities, including Connected Car
SAN DIEGO--(BUSINESS WIRE)--Taoglas, a leading provider of IoT and M2M antenna products, today launched a range of high-performance GNSS antennas specifically designed to power the next generation of applications that require highly accurate location capabilities, including navigation, unmanned aerial vehicles (UAVs), surveying, agriculture, and paving the way for the rise of autonomous vehicles. The new antenna range is the most comprehensive series of high-precision GNSS antennas in the market today, and incorporates several new form factors to help drive optimal performance and location capabilities across a wide variety of use cases.

To deliver the best accuracy, centimeter-level positioning and precise location capabilities required for applications like the Connected Car and autonomous driving, the use of multiple RF bands is required. Taoglas new range includes systems and antennas that utilize not only the additional functions of the Galileo, GLONASS and BeiDou satellite systems, but also the GPS L2 or L5 bands to deliver the highest levels of accuracy and performance required.
"Todays connected devices and applications demand new ways of approaching the age-old problem of location accuracy," said Dermot OShea, Taoglas co-CEO. "In certain applications, there is simply no room for positioning errors—location accuracy is an absolute requirement."
The new antenna range includes:
The GRS.10, a "smart" antenna that includes a high-performance Taoglas GNSS (GPS, GLONASS, Galileo, BeiDou) ceramic patch antenna module integrated with a u-blox NEO-M8U GNSS receiver.
The Torpedo series GNSS quadrifilar helical antennas, extremely high-performance wideband satellite antennas for position-information-critical applications. No other GNSS antenna provides such high circularly polarized antenna gain across such a wide beamwidth. These are available in a passive (QHA) or active (AQHA) versions.
The BOLT A.90.A.10451111, a new GNSS timing antenna that includes lightning-induced surge protection and is an ideal solution for the base station market. The advantage over existing timing antennas is the addition of GLONASS and BeiDou frequencies.
The complete range of precision GNSS antennas also includes:
The ASFGP.36A.07.0100C, a ceramic GPS L1/L2 low-profile, low-axial-ratio, embedded stacked active patch antenna.
The MAT.12A, a GPS/GLONASS/BeiDou dueling-loop chip antenna evaluation board, which delivers the advantages of a circularly polarized patch antenna, with two miniaturized low-profile chip antennas on a smaller PCB footprint, at one-fifth the weight.
Yesterday, Taoglas also launched an industry-first range of small-form-factor ultra-wideband (UWB) antennas specifically designed to work with DecaWaves chipset and module solutions for applications including asset tracking, follow-me drones, healthcare monitoring, smart home services, and other applications that demand high-performance indoor localization capabilities.
To learn more about Taoglas complete range of GNSS and UWB antennas, visit Taoglas in Booth N.614 at Mobile World Congress Americas, September 12-14, 2017, in San Francisco, or visit www.taoglas.com.
About Taoglas
Taoglas provides advanced antenna and RF solutions to the worlds leading wireless and Internet of Things (IoT) companies. With five world-class design, support and test centers in Ireland, Germany, Taiwan and the USA, Taoglas works with its customers to provide the best solution for their unique antenna and RF challenges, quickly and easily. In-house manufacturing in Taiwan and USA enable us to deliver the highest quality products. Our team of professionals live and breathe RF solutions, with expertise and experience across different wireless and IoT use cases, from LTE to GNSS, DSRC, and NFC and beyond to 5G. This expertise is proven in the huge number of success stories across a variety of applications, including Telematics, Automotive, Metering, Smart Grid, Wearables, Medical Devices, Remote Monitoring, and High-Speed Video Broadcasting. For more information, visit www.taoglas.com.
Featured Product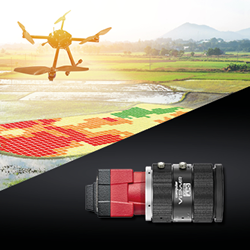 Allied Vision's compact and light weight Alvium SWIR (short wave infrared) cameras are the ideal choice to build cost-effective OEM systems used in embedded and machine vision applications. The cameras support a spectral range from 400 nm to 1700 nm at high quantum efficiencies. This allows to capture images in both the visible and SWIR spectra with a single camera and enables users to reduce overall system costs! Equipped with Sony's IMX990 and IMX991 SenSWIR InGaAs sensors, Alvium SWIR cameras deliver high image quality and frame rates. This makes them well suited for drones or handheld devices used in various industries such as, agriculture, mining, solar cell inspection or medical.