Exclusive First Look at Market Research Results
SAN JOSE, Calif.--(BUSINESS WIRE)--The commercial drone industry can provide business solutions to a variety of industries, which is why Drone World Expo is bringing over 40 educational sessions to the San Jose Convention Center on October 3-4, 2017. Industry experts and thought leaders will lead seminars on everything drones can do for businesses, whether that's newsgathering, insurance, scientific research, or anything in between.

"Drone World Expo is proud to have a roster of over 100 industry experts who will present in 45 sessions and will provide up to date information on the use of drones in a wide range of industries. These experience speakers and panelists will bring their diverse backgrounds to their presentations to ensure attendees learn everything they need to about using drones as an effective business solution," said Joelle Coretti, Vice President and Event Director. "In addition to newsgathering, insurance, coastal and environmental applications, our conference will provide timely and relevant content for public safety, agriculture, construction, utilities, law enforcement, oil and gas and other vertical industries as well as many high-level discussions about safety, security, privacy, the current regulatory environment and whats in store for the future of commercial drones."
"Industry Standards for Newsgathering" will be held on Tuesday, October 3 at 4 p.m. Michael Chambliss from International Cinematographers Guild/IATSE Local 600; Mickey H. Osterreicher from National Press Photographers Association (NPPA); and Jeff Rose from Sinclair Broadcast Group will discuss the immediacy, impact and cost effectiveness of drone videography and how it promises to make it a vital technique for news organizations of all sizes.
"Drones in the Insurance Industry" will be presented on Wednesday, October 4 at 10:30 am by an impressive group of professionals from the insurance industry and drone industry. Dr. Beverly Adams from Guy Carpenter, a Marsh & McLennan Company; Todd Binion from State Farm Fire & Casualty Company; Taylor Horsager, UAS Chief Pilot, American Family Insurance; and Jessica Magill from AOPA Insurance Agency will be joined by moderator Kathleen "Kat" Swain, Senior Director, UAS Programs, AOPA - Aircraft Owners and Pilots Association.
On Wednesday October 4 at 11:45 a.m., join Matthew Fladeland from NASA Ames Research Center; Todd Jacobs from NOAA - National Oceanic and Atmospheric Administration; and Philip McGillivary from US Coast Guard, for their session "Where Science Meets Technology: Maritime and Coastal Applications for Drones." Adding to the expertise of this panel is moderator John "JC" Coffey from Cherokee Nation Technology Portfolio. This dynamic panel will address how as the United States Atmospheric, Marine and Arctic areas of interest expand and include hard-to-reach regions of the Earth (such as the Arctic and remote oceanic areas) optimizing unmanned capabilities will be needed to advance the United States science, technology and security efforts.
Colin Snow, CEO and Founder, Skylogic Research, LLC, will be presenting, an exclusive first look at Skylogic Researchs latest research on the commercial drone industry. Dont miss "Predicting the Future of the Drone Industry: New Research Results" on Wednesday, October 4 at 2:45 p.m. to have a better understanding of critical industry drivers, vendor and service provider market shares, business adoption trends and issues, market size for all drone brands, and growth projections by segment.
Commercial drone professionals may register for complimentary expo passes which include access to these keynote presentations, the exhibit hall, Tech Talks and demonstrations from featured exhibitors, and networking receptions each day. In addition, Drone World Expo offers a complete two-day conference program where more than 100 thought leaders, industry experts and end-users will gather to present real-world solutions to business and environmental challenges. End-users of drone technology may qualify to attend the full conference at no charge by visiting http://www.droneworldexpo.com/register.asp.
Drone World Expo, the defining event for the commercial applications of UAS technology, will take place October 3-4, 2017 in the heart of Silicon Valley at the San Jose Convention Center. For more information, visit www.droneworldexpo.com. The event is produced by JD Events, dedicated to the creation of targeted and innovative industry-leading events that deliver results. The company brings together highly qualified buying audiences, education-rich content and high-level networking opportunities -- all geared toward increasing business transactions in the markets it serves. Visit www.jdevents.com for more information.
Featured Product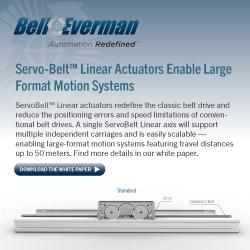 Manufacturing and packaging operations that still depend on manual material or parts handling operations can reap immediate benefits from a type of automation based on long-travel Cartesian robots with custom end-of-arm tooling (EOAT) and advanced sensing capabilities. These robots can support a variety of machines - performing otherwise manual tasks such as machine tending or transferring in-process parts - making long-travel Cartesian transfer robots a major upgrade to processes and operations. Download the White Paper from Bell-Everman