Small Business Demand for Affordable Drones Continues to Rise
Applied Aeronautics today announced that it has successfully doubled its production capacity in less than two years. The California based company designs and manufactures affordable, long range UAVs for the professional market. Their planes are fully composite, fly for over 4 hours, can be found on every continent and are used for diverse applications like precision agriculture, aerial surveying, conservation and defense.

Applied Aeronautics COO, Meg Annand said: "Weve seen steady growth in demand over the last year as a result of relaxed regulations, an increased global presence and our continued commitment to improving small business access to professional UAVs. By keeping our prices extremely competitive weve succeeded in making this innovative tech available to the masses. Just last week we shipped several systems off to a pair of first time business owners and military veterans looking to capitalize on the UAV boom by starting their own surveying business. Its been such a thrill helping others achieve their ambitious goals."
Applied Aeronautics CEO, Ryan Johnston notes: "When we opened our doors in 2014 we werent sure what to expect. The industry was relatively new and the idea of selling high tech goods to small business owners was risky. But, we have a great team behind us and have been very fortunate to sell out each time we restock. Doubling our capacity is a testament not only to the success of our hardworking team but also points to the direction the UAV industry is headed as a whole. The masses are catching on and we dont foresee things slowing down anytime soon."
In addition to increasing their production capacity, Applied Aeronautics will soon announce a series of strategic partnerships aimed at reducing shipping costs and export challenges for international consumers. To date, their products can be purchased directly at AppliedAeronautics.com as well as through Robot Shop in Canada, Europe and the United Kingdom.
Applied Aeronautics is a US based UAV manufacturer, specializing in modular, commercial grade, affordable systems. Applied Aeronautics flagship product, The Albatross, is a dynamic UAV platform designed for use in most industries, ranging from agriculture and research to disaster management and defense. This entirely customizable UAV is nearly silent, can fly for 4+ hours, and boasts an available payload of up to 10 lbs. For more information on Applied Aeronautics, please visit http://www.AppliedAeronautics.com
Featured Product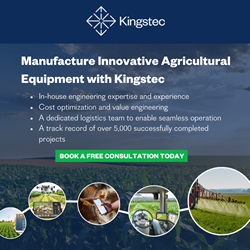 In the rapidly evolving agricultural landscape, leading AgriTech companies are increasingly leveraging the experience and expertise of strategic engineering and manufacturing partners to bring cutting-edge, cost-effective solutions to market. Kingstec is an all-in-one engineering, manufacturing, and logistics partner, with over 40 years of experience and 5,000 successfully completed projects. We can help you bring innovative, cost-optimized farm equipment, sensors, drones, components, and more to market quickly with in-house engineering and manufacturing expertise, a dedicated logistics team, and a network of world-class manufacturing and supply chain partners.