Dedicated portal is an important tool to better facilitate collaboration.
DuPont Pioneer today announced the launch of a new component of its long-standing innovation strategy. A website (openinnovation.pioneer.com) dedicated to connecting third-party innovators with DuPont Pioneer scientists is now available and focused on five strategic areas - trait discovery, plant breeding, enabling technologies, biologicals and digital solutions.

"DuPont Pioneer is building on its long history of collaboration to advance science-based customer solutions by enhancing its open innovation strategy," said Neal Gutterson, vice president, Research and Development for DuPont Pioneer. "Through this broad-based approach, we make available our resources to collaborators and develop the most innovative technologies in agriculture, then apply our production scale and route to market to rapidly deploy novel solutions to farmers around the world."
Currently there are three active grant opportunities posted on the open innovation web portal targeted to disease resistance; advancements in template-based CRISPR-Cas genome editing; and, big data cluster analysis.
Potential collaborators also are encouraged to submit ideas for consideration beyond the currently available grants. Terms for selected open innovation projects are tailored on a case-by-case basis in a discussion with DuPont Pioneers open innovation team.
DuPont Pioneer is the world's leading developer and supplier of advanced plant genetics, providing high-quality seeds to farmers in more than 90 countries. Pioneer provides agronomic support and services to help increase farmer productivity and profitability and strives to develop sustainable agricultural systems for people everywhere. Science with Service Delivering Success®.
DuPont (NYSE: DD) has been bringing world-class science and engineering to the global marketplace in the form of innovative products, materials and services since 1802. The company believes that by collaborating with customers, governments, NGOs and thought leaders, we can help find solutions to such global challenges as providing enough healthy food for people everywhere, decreasing dependence on fossil fuels, and protecting life and the environment. For additional information about DuPont and its commitment to inclusive innovation, please visit http://www.dupont.com.
Featured Product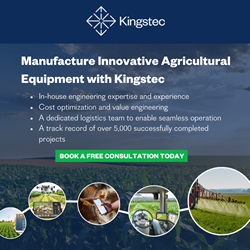 In the rapidly evolving agricultural landscape, leading AgriTech companies are increasingly leveraging the experience and expertise of strategic engineering and manufacturing partners to bring cutting-edge, cost-effective solutions to market. Kingstec is an all-in-one engineering, manufacturing, and logistics partner, with over 40 years of experience and 5,000 successfully completed projects. We can help you bring innovative, cost-optimized farm equipment, sensors, drones, components, and more to market quickly with in-house engineering and manufacturing expertise, a dedicated logistics team, and a network of world-class manufacturing and supply chain partners.