The AgTech group snags a coveted Utah Innovation Award for its advances in agricultural technology.
The ProSlab 155 automated turf harvester by FireFly Automatix is the winner of the Utah Innovation Award in the category for Mechanical Systems / Chemical / Manufacturing. The 15th annual program seeks to recognize exciting technological advances happening in Utah and the companies that create them.

The Utah Innovation Awards program is organized by Stoel Rives LLP and the Utah Technology Council. The Selection Committee included more than 80 experts to evaluate nominations in eight categories. Winners were announced Thursday at an Awards Dinner at the Hilton Salt Lake City Center.
Will Decker, FireFly's VP of Engineering, said, "We have applied technology that is traditionally found in factory automation in a clean, quiet, and stationary environment, and applied it to agriculture. We've found that our machine will burn 50-75% less fuel than a competitive technology with the same function."
About FireFly Automatix, Inc.: FireFly Automatix, Inc., operating under the name FireFly Equipment in the turfgrass industry, designs and manufactures automated agricultural harvest technologies that improve clients' productivity. For more information, visit fireflyequipment.com, LIKE us on Facebook and follow us on LinkedIn, Twitter and Instagram @fireflyequip.
Featured Product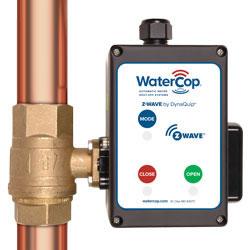 WaterCop is growing! WaterCop Z-Wave offers additional security, safety and peace-of-mind for any Z-Wave smart home system. Check out our newly added Z-Wave controlled water shut-off valves for water pipes up to 2" for both indoor and outdoor applications. In addition we offer Leak Stop, WaterCop Classic, WaterCop Pro, Outdoor, Dual Valve and Large Valve Systems for residential, multi-family and commercial needs. WaterCop has you covered! Please visit www.watercop.com to learn more.