Leading-Edge AgTech Company Leverages Technology from SRI International to Make Nutritious Food More Accessible
MENLO PARK, Calif. - August 10, 2016 -SRI International today announced the spin-out and launch of Abundant Robotics, an agriculture technology company focused on helping make nutritious foods such as apples and other tree fruits more accessible. Abundant will commercialize and build on several years of successful research initiatives in agricultural robotics at SRI.

"While orchard yields have significantly improved over the last two decades, labor productivity has not," said Dan Steere, CEO of Abundant Robotics. "Our goal is to deliver robotic systems to ease the hardest jobs in agriculture. The first automated apple harvesting system that doesnt bruise or damage the produce will be a huge breakthrough in an industry that has been dependent on the challenges of seasonal labor."
Abundant Robotics initial prototype is designed with technology from SRI to enable automation of apple harvesting. Future development may address other produce and steps in the production process.
"Bringing automation to orchard agriculture is an important step in addressing nutritional demands and making high-quality fruit available to a growing population," said Manish Kothari, Ph.D., president of SRI Ventures at SRI International. "SRI is proud to be a part of this major agtech breakthrough."
Abundant Robotics co-founders Curt Salisbury, Michael Eriksen, and Dan Steere share early backgrounds in agriculture. Recognizing the opportunity for farming innovation they joined together while at SRI to apply leading-edge robotics expertise to agricultural production. Salisbury was a leader in SRIs robotics group and Eriksen, a software architect, was a key collaborator. Steere initially served as an entrepreneur in residence at SRI Ventures, advising Abundant Robotics before leading the venture full-time.
Backed by research funding from the Washington Tree Fruit Research Commission and SRI, Abundant Robotics has closed its initial investment round.
About Abundant Robotics
Abundant Robotics mission is to deliver robotic solutions for the hardest jobs in agriculture. Based in California, we are global experts in our fields, love solving important problems, and are passionate about building great products. Growers worldwide are grappling with urgent problems, including rising standards for high-quality produce and scarcity of agricultural labor. Abundant is currently preparing its first solution, automating apple harvest.
About SRI International
SRI International creates world-changing solutions making people safer, healthier, and more productive. SRI, a research center headquartered in Menlo Park, California, works primarily in advanced technology and systems, biosciences, computing, and education. SRI brings its innovations to the marketplace through technology licensing, spin-off ventures and new product solutions.
Featured Product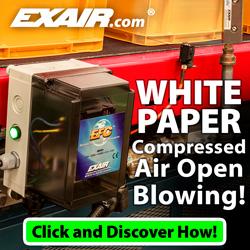 Compressed air is a limited resource that is generated in-house for the benefit of many operations within the manufacturing environment. Learn how to ensure all point of use applications are using your compressed air in the most effective and efficient way possible. Learn how much it costs to produce that compressed air and how Engineered Nozzles can help you use your air more effectively and efficiently.