Acquisition Enables Trimble to Provide Food Quality Inspection and Food Traceability to Producers, Distribution Centers and Retailers
SUNNYVALE, Calif., April 22, 2015-Trimble (NASDAQ: TRMB) announced today

that it has acquired the assets of HarvestMarkR, a provider of food
traceability and quality inspection solutions, from YottaMark, Inc. of
Redwood City, Calif. HarvestMark is a market leader in delivering insights
throughout the fresh food supply chain from farm to fork. Its platform and
tools make food data collection efficient, complex information simple to
view and prioritize, and provides actionable insights to drive sales and
profit. HarvestMark enables food producers, distributors and retailers to
meet food safety requirements, build shopper loyalty, secure their supply
chain and optimize product freshness and quality. The acquisition of
HarvestMark further enhances Trimble's position in Agriculture and
Transportation and Logistics within the food supply chain.
The HarvestMark portfolio includes four software-as-a-service products:
. PTI & Item Level Traceability is affordable software that enables
food producers, retailers and food service companies to comply with the
Produce Traceability Initiative and create visibility throughout the supply
chain. It provides an easy way to create rich analytics to improve
performance from a product's source to the end consumer.
. DC Insights is a flexible, ERP agnostic mobile application that
prioritizes and guides quality inspections, provides analytics for improved
buying and gross margin, and creates visibility in real time with automated
performance reports and supplier notifications.
. Retail Insights is a lightweight, mobile application that allows
retailers, food service companies and food producers to easily collect and
synthesize food data, prioritize companies' initiatives and ensure execution
of priorities with real time-and trended-information.
. Connect is a platform that allows retailers and food producers to
engage their customers, share details about particular products and buying
practices, suggest recipes and complimentary products, and receive customer
feedback.
The food industry is being transformed by demands for greater transparency,
quality and safety, creating opportunities to provide meaningful analysis of
food from the farm to the fork. HarvestMark provides applications for food
producers, distributors and retailers to address these demands to deliver
predictably higher quality, fresh food to build buyer loyalty, drive sales
and improve profitability.
Coupled with Trimble's Connected FarmT solution, HarvestMark enables
producers to make real-time decisions that improve the quality and safety of
fresh food grown on their farms. By monitoring their quality metrics,
producers can ensure they are delivering the highest quality fresh food to
the retailer while reducing the likelihood and impact of a foodborne health
event. When combined with Trimble's portfolio of Agriculture products,
producers can achieve better results through cost reduction and higher
income from greater fresh food quality.
Today, Trimble serves fresh food transportation and distribution customers
through its fleet management, dispatch and driver behavior applications and
analytics software from its Transportation and Logistics Divisions,
PeopleNet and TMW. These Trimble solutions also integrate with cargo
monitoring systems to ensure product freshness during the shipping process.
By combining these capabilities with the HarvestMark solutions, Trimble can
now offer fresh food transporters, distributors and retailers with
visibility into fleet equipment performance, driver effectiveness and cargo
origin and handling across the entire supply chain.
"Trimble's acquisition of HarvestMark enables us to provide further benefits
to producers and adds new value to distribution centers and food retailers
by providing a powerful tool for tracking goods in the food industry," said
Mark Harrington, vice president of Trimble. "By combining HarvestMark with
our Connected Farm and Transportation and Logistics solutions, we can enable
producers, distributors and retailers to coordinate their activities to
deliver the best quality foods to consumers. We are also giving our
customers unique solutions to help control costs and increase profits in the
food production, processing, distribution and retailing industries."
"The HarvestMark acquisition by Trimble enables us to provide customers with
increased access to industry-leading technologies," said Charlie Piper,
YottaMark CEO, who will join Trimble after the acquisition. "The combination
of Trimble and HarvestMark provides innovative solutions in transparency and
connectivity throughout the supply chain, enabling food producers and
retailers to optimize freshness and quality, build shopper loyalty and meet
food safety requirements. We look forward to accelerating the value we
provide through Trimble's deep technology portfolio, global footprint and
industry leadership."
The HarvestMark business will be reported as part of Trimble's Field
Solutions Segment. Financial terms were not disclosed.
About HarvestMark
HarvestMarkR is an industry-leading fresh food traceability and insights
platform. HarvestMark solutions deliver transparency and unparalleled
insight into the fresh food supply chain that drives sales and profit.
Designed for a wide range of fresh products, the HarvestMark platform
supports industry standard case-level and item-level traceability.
HarvestMark Connect extends the platform to include consumer marketing and
communication-driving loyalty by connecting farm to fork, speeding food
safety communication, and reconnecting shoppers with the people who grow and
sell their food. HarvestMark Insights provides on-demand tools and analytics
to help optimize quality and freshness. Today, more than 350 companies and
over 3,000 farms globally use the HarvestMark platform to power their
traceability programs. This translates into more than seven billion packages
of fresh food that have been enabled with HarvestMark traceability.
For more details, visit: HarvestMark.com.
About Trimble's Agriculture Division
Trimble Agriculture solutions enable customers to maximize efficiency and
reduce chemical and fertilizer inputs while also protecting natural
resources and the environment. Trimble's precision agriculture solutions
cover all seasons, crops, terrains, and farm sizes, and its brand-agnostic
strategy allows farmers to use Trimble products on most vehicles in their
fleet-regardless of manufacturer. To enable better decision making, Trimble
offers the Connected Farm solution which allows farmers to collect, share,
and manage information across their farm in real time. To optimize water
use, Trimble provides water solutions for irrigation, drainage, and land
leveling. Trimble's product suite includes vehicle and implement guidance
and steering, as well as a portfolio of correction options that are the most
versatile of their kind in the industry. Additional solutions include an
unmanned aircraft system (UAS) for aerial imaging and mapping; application
control for seed, liquid, and granular products; a harvest solution; and
farm management software.
For more information on Trimble Agriculture, visit:
www.trimble.com/agriculture.
About Trimble
Trimble applies technology to make field and mobile workers in businesses
and government significantly more productive. Solutions are focused on
applications requiring position or location-including surveying,
construction, agriculture, fleet and asset management, public safety and
mapping. In addition to utilizing positioning technologies, such as GPS,
lasers and optics, Trimble solutions may include software content specific
to the needs of the user. Wireless technologies are utilized to deliver the
solution to the user and to ensure a tight coupling of the field and the
back office. Founded in 1978, Trimble is headquartered in Sunnyvale, Calif.
For more information, visit: www.trimble.com.
Featured Product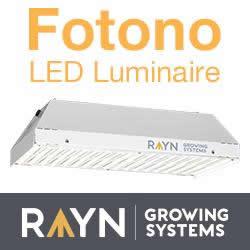 Fotono is a full spectrum LED horticultural luminaire designed to directly replace HPS lights in greenhouses. At 12 pounds, 20 inches long, and 5 inches high, Fotono's compact size makes installation simple while minimizing structural burden on greenhouses. This compact fixture packs energy-saving and yield-improving features, such as a high output, stepless dimming, advanced spectral capabilities, and more.